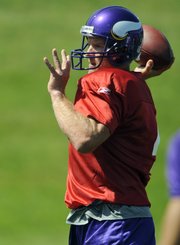 Eden Prairie, Minn. — Brett Favre unretired again and will be wearing purple this time. Chew on that, cheeseheads.
Pulling an about-face on his playing status for the second straight summer, the three-time MVP quarterback will suit up for his old rival Minnesota starting with Friday's preseason game at the Metrodome. The goal: help the Vikings win that elusive first Super Bowl.
"You need to cross over that line. You need to take that chance," Favre said at his introductory news conference Tuesday, recalling the advice Minnesota coach Brad Childress gave him. "At 39 years old, your arm may not feel like it did at 21, but the pieces are in place here where you don't have to do as much."
He added: "If they were willing to take that chance, I was, too."
The wait for Favre's decision dragged through May, June and July — at which point he said he would stay retired. But that was three weeks ago. On Tuesday, it all was resolved in a matter of hours.
Team owner Zygi Wilf and president Mark Wilf met Favre in Mississippi with their private plane, Childress himself picked him up at the St. Paul airport, and a news helicopter hovered over their route to the team's suburban practice facility in Eden Prairie.
Once the vehicles arrived, hundreds of fans roared when Favre waved as he got out. No less than 90 minutes later, he was on the field in his familiar No. 4 jersey with purple shorts and a purple helmet, a vision that has had Packers fans cringing about for months.
He shook hands with a few of his new teammates and quickly began throwing, as people peeked through the security fence to catch a glimpse of the stubble-faced superstar.
"I think it's great for football," Favre said. "I can't see how you think it wouldn't be."
On July 28, the man who holds every major NFL career passing record told Childress he wasn't ready to play, citing a lack of confidence in his beat-up body to hold up over an entire season. Favre revealed Tuesday that he was told by Dr. James Andrews, who performed the arthroscopic surgery on his throwing shoulder in May, that he's been playing with a torn rotator cuff for a few years.
Copyright 2018 The Associated Press. All rights reserved. This material may not be published, broadcast, rewritten or redistributed. We strive to uphold our values for every story published.