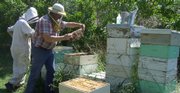 Anthony Schwager came home during the third grade with the idea of raising bees. Little did his parents know that it would be the start of a successful business for their developmentally disabled son and the entire family.
Baldwin City — Tony Schwager made an unusual house call Tuesday morning. It was to a fallen limb that contained a colony of healthy, wild honeybees.
Schwager, part of the family-owned Anthony's Beehive company between Baldwin City and Lawrence, assessed the situation quickly. A gigantic oak tree limb fell during Saturday's storm, crushing the Grove Park Pavilion. In that limb was a colony of honeybees, which were angered by the fall, and city crews couldn't remove the debris until Schwager had worked his magic.
He learned of the city's plight via Twitter Monday from City Hall saying, "Anyone know a beekeeper?" He Tweeted back. He couldn't get to the bees until Tuesday, and by then they'd settled into their new surroundings on the ground.
"This is an established colony," Schwager said. "It's pretty big. I'll bet there are 40,000 bees. They're nice and calm. The chainsaw didn't even bother them."
He had donned his protective beekeeping suit, grabbed the city's oversized chainsaw and cut out the section that contained the bees. He was happy with what he found.
"This hive has thrived in the wild," he said. "No diseases and without any care. It's healthy. That's why it has some appeal."
A city crew used a utility truck to grab the chunk of log, lift it up and over the pavilion and into the bed of Schwager's pickup.
"He'll let the bees come to it," said Bill Winegar, public works director who oversaw the project. "He doesn't want to move it until after dark. He's the expert."
There was a reason for that. Not all of the colony was there.
"Right now, there are so many bees out in the field," Schwager said.
He said once he gets it to the farm he'll cut out the honeycomb and put it in boxes. He isn't worried about the bees getting along with the other colonies at the farm.
"They are so focused on their task," he said.
The Baldwin City project wasn't anything new for Schwager.
"Sometimes the tree guys call us. They hate bees," he said of crews who cut trees, including those damaged in storms, and run across similar colonies. "They don't appreciate them as much as we do."
Copyright 2018 The Lawrence Journal-World. All rights reserved. This material may not be published, broadcast, rewritten or redistributed. We strive to uphold our values for every story published.