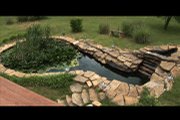 "It all started on a napkin at Perkins."
That's how Marsha Goff describes the origins of house plans she and husband Ray developed for the home they built in rural Lawrence near Eudora township.
What started as scrawlings on a restaurant napkin 14 years ago evolved into an open ranch-style retreat.
Situated on 7 scenic acres of former wheat fields, the home is now surrounded by an interesting variety of trees. Purple smoke, an umbrella tree, magnolias, a red leaf white birch and a bald cypress are part of the mix planted and nurtured by Ray Goff.
Out back, a stone-ensconced lily pond with gurgling fountain adds to the tranquility of the country setting frequented by butterflies and hummingbirds.
The home boasts an abundance of windows that capitalize on the far-reaching bucolic views.
Furnishings and décor feature family heirlooms and personal treasures. The circular dining room houses a nursing rocker, secretary, buffet and chairs from Marsha's grandmother, and an ornate walnut bed downstairs provides an unlikely story that united both homeowners' families. A prominently displayed award-winning Jayhawk quilt artistically relates family history.
Copyright 2018 The Lawrence Journal-World. All rights reserved. This material may not be published, broadcast, rewritten or redistributed. We strive to uphold our values for every story published.