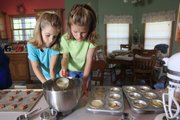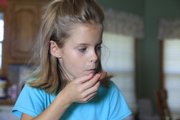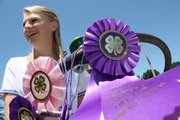 The ingredients that make a champion — persistence, determination and practice — don't change when the competition revolves around food. They just taste better.
Just ask the bake-happy kids of Douglas County's 4-H programs. Just like anything else, the 4-H'ers who compete in the art of baking must study, practice and put in the hours necessary to produce results.
Yummy, yummy results, like the ones Leslie Queen is known to produce for the competition, which this year takes place today at the Douglas County Fairgrounds, 1930 Harper St. Queen, a soon-to-be senior at Lawrence High School, has twice gone home grand champion from the fair in the non-perishables competition. The first time with mighty Danish bear claws, the second time — just last year — with a tasty lemon chiffon cake.
"I knew that they were good recipes because I had made them before and they were really good and I decorated them nicely," Queen says. "Last year, the lemon chiffon, it just looked really nice, like from the beginning, it just tasted really good. Luckily, it turned out perfect pretty much for the fair."
Not only did the judges like it, but so did the rest of the family, says her mother, Lori, who cleared out of the kitchen to let her daughter practice for days on end before happily eating the results.
"She's trying out recipes now, and her favorites are cakes — things that we eat, and then she also likes to try out new recipes and see how they work and see if she needs to tweak anything or if it's just something she doesn't think tastes right then she'll try something different," Lori Queen says. "Whatever doesn't turn out, we all get to try."
First-timers
Of course, before you can test-drive recipes, you must find the perfect ones to try. Kalen and Kelby Dressler, 8, of Eudora, have been researching and test-driving recipes for quite some time. The twins are looking for just the right ones for their first entries into the fair's baking competition says their mom, Sharla Dressler.
"Basically, I just pulled out cookbooks, and they just sat down one day and I gave them a thing of sticky notes and I said, 'Just put your color in which page you like,'" Dressler says. "And then we went together and just kind of picked things out and went from there."
Kelby says that she wasn't too scientific about the whole process. She just picked what she liked on sight alone.
"I was looking at the pictures," Kelby says. "Some, I looked through the cookbook and some I looked on the Internet and I found some with my mom. And my mom has a lot of cookbooks so I looked through them. We have a lot of ideas, but I don't know if we're going to try them all and see which ones we like the best."
The only problem, Kelby says, is that some of the things she wanted to try didn't meet the requirement that the dish be "non-perishable."
"Some of them, they looked really, really good but we couldn't do them because they had cream cheese in them," she says.
The day of the competition
Both moms say they don't expect to have control over their kitchens until after the competition as their kids work on up to three baked goods each for the non-perishables competition. Queen says that usually the day before the competition is a whirlwind of flour and oven mitts.
"We take everything in on a Monday, the Monday of the fair is registration. So that Sunday ... I get up in the morning and I just bake, bake, bake, like all day. If I do a bread, I'll start that ... because that has to rise. And then in the middle of that, I'll do a cake and put that in an oven," Queen says. "So I do everything on Sunday, so then it's always fresh for Monday when it gets judged."
Kelby says she's excited to get to compete, though she says she knows it'll be different from other competitive things she's done, like softball.
"You do different stuff, and in softball you throw the ball and you hit the ball," Kelby says. "Cooking is fun, too. I think we'll just see what works."
Copyright 2018 The Lawrence Journal-World. All rights reserved. This material may not be published, broadcast, rewritten or redistributed. We strive to uphold our values for every story published.