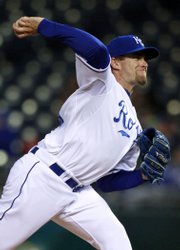 Kansas City, Mo. — Even though he doesn't throw one, Brian Bannister felt like a knuckleballer on a rainy Monday night.
The right-hander gave up one hit over seven innings, and Jose Guillen hit two homers to lead the Kansas City Royals to a 7-1 victory over Toronto.
The Blue Jays entered the game leading the majors in runs, batting average and slugging percentage, but Bannister limited them to Adam Lind's first-inning single.
"The ball was slipping out of my hand the whole night," Bannister said. "I really struggled getting a consistent release with it. At the same time, it was putting a real crazy spin on the ball. I throw my fastball without seams and it was literally slipping the whole night. The closest thing I can compare it to is the way a knuckleball pitcher throws. You don't walk six and have an outing like that, but the ball was just moving all over the place all night. I just stuck with it and battled through it.
"That's not how I like to pitch. It was weird conditions, it was misting out there the whole night. So my hand was wet and the ball just sits there and gets wet."
Bannister walked six, including five of the first 14 he faced.
"That's not the way you draw it up," he said. "I just dealt with it. I hate putting fans through that, watching me throw balls. The way the ball was going in the zone, I didn't know if it was going to cut or back up or what it was going to do because it was slipping quite often. The approach was to get in the zone and see what happens. The way they were taking swings, I could tell they were just as frustrated as I was."
Bannister (2-0) has allowed one run and five hits in 13 innings since being recalled April 22 from Triple-A Omaha.
Copyright 2017 The Associated Press. All rights reserved. This material may not be published, broadcast, rewritten or redistributed. We strive to uphold our values for every story published.