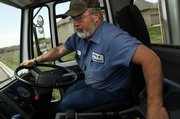 The city's street cleaners each cost $175,000, reach top speeds of 3 miles an hour and rely on either $275 brooms or a vacuum that's 400 times more powerful than the Hoover in your closet at home.
Their mission: Suck up some of the 660 tons of sand, and perhaps a pinch of salt, left behind on Lawrence's once-frozen streets, now thawed for the spring.
"It's a safety factor for the motorist," said Bryce Campbell, a field maintenance supervisor for the city's Public Works Department. "You put stuff down in the winter so they don't slide around, and you pick it up in the spring so they don't slide around."
This week, efforts to remove such traction-challenging granules are moving into high gear — powered by automatic engines and hydraulic pumps — on some of the city's 805 lane miles of streets. That's because comfortable temperatures, low winds and a lack of rain are providing prime conditions for the city's fleet of three street cleaners.
The machines creep along, their steel-wire brushes scouring gutters and curbsides on everything from cul-de-sacs to designated U.S. highways. Two of the sweepers use only brooms, while a third adds a large vacuum — plus a moisture spray to keep dust from spreading — to get their jobs done.
At day's end, the hoppers are emptied of their mounting messes: road sand and a little salt, plus a crumpled collection of fallen leaves, gum wrappers, cigarette butts and other materials left behind by anything or anyone that moves.
Think of the hoppers as dust pans, each big enough to fill half a dump truck.
"It's like cleaning your house," said Tom Orzulak, the city's street division manager. "We really pride ourselves on trying to keep the streets as clean as we can."
Five full-time employees handle street-cleaning duty. When they're not out sweeping and vacuuming, they're often inside the shop, tending to their high-maintenance vehicles.
The crew goes through 1.25 tons of wire each year to restring the steel brushes, a tedious job tackled weekly. Backside brooms on two of the sweepers are replaced every three weeks, each at a cost of $275.
The investment isn't merely cosmetic. While cleaning efforts keep roads looking clean, they also improve driver safety and prevent sediment and other materials from clogging the city's storm drains, said Chuck Soules, the city's director of public works.
City crews work to clean out drainage inlets intermittently, he said, but can't get farther into the underground pipes that control the flow of water out of neighborhoods. Without proper street cleaning, flooding problems increase and sedimentation can affect flows of streams and even the Kansas River.
"We want to do the right thing," Soules said.
Copyright 2018 The Lawrence Journal-World. All rights reserved. This material may not be published, broadcast, rewritten or redistributed. We strive to uphold our values for every story published.