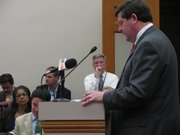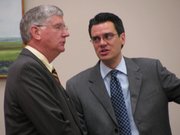 Topeka — In just a few months, the Kansas economy has gone from bad to worse, and the fear is that it could continue to slide, officials said Tuesday.
"This will be the longest and deepest recession in 70 years," Alan Conroy, director of the Kansas Legislative Research Department, told House budget writers who started meeting to tackle the state budget crises.
Last week, state financial experts revised the revenue projections for the fiscal year that starts July 1, and they estimated that revenue for the recently approved $13 billion budget would fall $328 million short.
And that deficit could grow, officials warned.
A revenue estimate in November, while ratcheted downward, indicated that Kansas would not suffer as much as some states in the national recession because of high energy prices and aircraft manufacturing.
Those two areas have taken a nosedive, however, and Kansas' economy has followed.
"There is concern that this could slip further," said House Appropriations Chairman Kevin Yoder, R-Overland Park.
That leaves lawmakers with a $328 million shortfall, which will require about $450 million to provide a reserve should tax revenues continue to fall short.
Budget committees will work this week in preparation for the return of the full Legislature on April 29 for its wrap-up session.
In early comments, Republicans and Democrats seemed to agree to prevent any further cuts to human services. With that in mind, bridging the budget hole through cuts alone in the rest of the budget would require about a 9 percent across-the-board cut.
Rep. Bill Feuerborn, D-Garnett, requested that the committee introduce a bill that would suspend the phase-out of several tax cuts, including the inheritance tax and corporate franchise tax.
"I feel it is very important to get the tax policy changes on the same road as our cuts in the budget," Feuerborn said. The committee approved introducing such a bill.
Copyright 2018 The Lawrence Journal-World. All rights reserved. This material may not be published, broadcast, rewritten or redistributed. We strive to uphold our values for every story published.