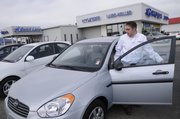 With layoffs mounting, some companies are giving worried workers the some level of confidence. They're providing consumers with multiple layoff insurance options.
Hyundai Motor America recently unveiled its Assurance program. It allows new car buyers to return their purchase if they're terminated from their job during the first year.
As shoppers work up the courage to make big buys during the uncertain times, the program, which launched at the first of the year, removes some of the fear of purchasing a new car, said Joey Kean, sales manager of Laird Noller Hyundai, 2829 Iowa.
"Basically what Hyundai has done for you is given you peace of mind," Kean said.
Under the program, customers can return the car and walk away from their loan or lease if they lose their job, without worrying about negative equity.
"People are definitely taking advantage of the program," he said, noting a boost in Hyundai sales.
Other industries have offered layoff insurance benefits to customers for years, though customers are just now paying attention to them, said Bob Hanson, spokesman to Kansas Insurance Commissioner Sandy Praeger.
For those looking to plan a vacation, there are many insurance products travelers can purchase benefiting those who are terminated from their jobs, said John Novotny, manager of Travellers Inc., 831 Mass.
Rates for travel insurance plans are based on the cost of the trip and the age of the traveler. In one example, the insurance for a $1,600 per-person vacation for someone between the ages of 35 and 50 would cost $90 per person, Novotny said.
The Travelex Insurance Services plan he recommends would provide a complete refund to someone who was terminated from a job he or she has held for three years or longer and wanted to cancel their trip.
Refunds are also available to those travelers who become sick, if a resort they're traveling to goes bankrupt or if they're summoned to court, among other reasons.
Many insurance products including layoff benefits are motivating buyers, said Surendra Singh, Kansas University marketing professor.
"There are real benefits," he said. "It's not just a gimmick."
But Singh said it's also important to use caution and read the fine print, as more companies are offering and marketing layoff insurance products.
"Every time there's a flux in the system, the crooks come out of the box," Singh said. "I would always be careful."
Deborah Becker, vice president of Hilco Mortgage Corp., stresses the use of caution.
While unemployment insurance can also be added to mortgages for an additional, and sometimes hefty, price, Becker said she never recommends it and encourages her customers not to buy a home unless they can afford the payments whether they're employed or not.
"If they think that they're in a bad position, as far as their job, then it's not the time to take on that debt," Becker said.
If you have questions about any insurance products offered, Hanson said you should call the Kansas Insurance Department at (800) 432-2484.
"Consumers should read carefully and understand the criteria and call if they have questions," Hanson said.
Copyright 2018 The Lawrence Journal-World. All rights reserved. This material may not be published, broadcast, rewritten or redistributed. We strive to uphold our values for every story published.