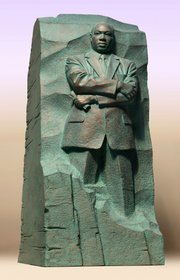 Washington — The family of the Rev. Martin Luther King Jr. has charged the foundation building a monument to the civil rights leader on the National Mall about $800,000 for the use of his words and image — an arrangement one leading scholar says King would have found offensive.
The memorial — including a 28-foot sculpture depicting King emerging from a chunk of granite — is being paid for almost entirely with private money in a fundraising campaign led by the Martin Luther King Jr. National Memorial Project Foundation. The monument will be turned over to the National Park Service once it is complete.
The foundation has been paying the King family for the use of his words and image in its fundraising materials. The family has not charged for the use of King's likeness in the monument itself.
"I don't think the Jefferson family, the Lincoln family ... I don't think any other group of family ancestors has been paid a licensing fee for a memorial in Washington," said Cambridge University historian David Garrow, who won a Pulitzer Prize for his biography of King.
King would have been "absolutely scandalized by the profiteering behavior of his children," Garrow said.
According to financial documents reviewed by The Associated Press, the foundation paid $761,160 in 2007 to Intellectual Properties Management Inc., an entity run by King's family. Documents also show a "management" fee of $71,700 was paid to the family estate in 2003.
Intellectual Properties Management said the proceeds it receives go to the King Center in Atlanta, where King and his wife, Coretta Scott King, are entombed.
Copyright 2018 The Associated Press. All rights reserved. This material may not be published, broadcast, rewritten or redistributed. We strive to uphold our values for every story published.