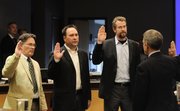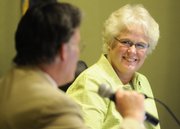 Outgoing Mayor Mike Dever on Tuesday congratulated the community for coming together in the last year to handily approve a trio of sales taxes for public transit and infrastructure projects.
Now, he says the community and the commission need to come together on another long-talked-about subject: homeless shelters.
"We must put aside our differences and allow the community to create a system where we can be assured that those in need can find clean, safe and consistent shelter from the elements," Dever said as he ended his one-year term as Lawrence mayor.
As expected, Vice-Mayor Rob Chestnut was unanimously elected by fellow commissioners to serve as a one-year term as mayor. Dever will remain on the commission as a commissioner. Recently elected Commissioners Aron Cromwell and Lance Johnson were sworn in Tuesday, while Commissioners Boog Highberger and Sue Hack, both of whom did not seek re-election, left the commission as part of the changing-of-the-guard ceremony. Commissioner Mike Amyx also was sworn back in after being re-elected by voters last Tuesday.
Dever highlighted the need to do more work on finding a new home for an expanded homeless shelter as part of his State of the City address. Dever said the need for action on creating a new homeless shelter is urgent because of plans by The Salvation Army to shut down its 42-bed homeless shelter in early May.
The closing next month is expected to create more demand for space at the city's other homeless shelter, the Lawrence Community Shelter. Leaders of the Community Shelter have said they are out of space at their location at 10th and Kentucky streets and would like to find a new home. Past efforts to relocate the shelter, however, have been met with opposition from prospective neighbors.
Homeless service leaders also have expressed concern that the closing of The Salvation Army shelter will increase the amount of illegal camping that occurs by the homeless on city and private property. In October, the city cracked down on homeless camping on a city-owned site near the Kansas River. Dever apologized for how the city handled that situation, which involved the destruction of several items left on site by the homeless.
"I am sorry for the way this was handled, and resolve to do whatever I can to ensure this does not happen again," Dever said. "Before next winter we must have a plan, place and a passion for solving this ever-growing social issue. No one in our community should be left out in the cold."
Chestnut, who takes over as mayor after serving two years on the commission, said the homeless issue will be one that receives city attention during his term.
"I definitely believe that the way you treat the least fortunate in your community is a reflection of who you really are," said Chestnut, who is the chief financial officer for Lawrence-based Allen Press.
In addition to Chestnut's election as mayor, Amyx — a downtown barber shop owner — was elected as vice-mayor. If tradition holds, Amyx will serve a one-year term as mayor beginning in April 2010.
Copyright 2018 The Lawrence Journal-World. All rights reserved. This material may not be published, broadcast, rewritten or redistributed. We strive to uphold our values for every story published.