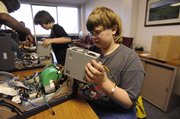 The most surprising thing about learning to take apart and then reassemble a computer is just how easy it is, 15-year-old Trevor Vanahill said.
"I feel like I know a lot more about it," Vanahill said.
He was one of six youths who were attending Saturday's computer training class put on by the Youth Education Association. And, for Vanahill and the other students — who ranged from a Kennedy School student to a senior at Free State High School — the draw was getting to keep the computer at the end of the day.
Since 2006, the Youth Education Association has been holding computer training classes in Lawrence, Lenexa and Topeka, giving more than 100 students free computers in the process.
Saturday's class started with students turning on the computer and looking at the startup screen.
"If you get back to that screen this afternoon, you will have successfully built a computer," teacher Will Spann said he told the class.
By lunch time, the boys had disassembled the computers so that motherboards, hard drives, power supply boxes and cables lay scattered on the table.
Spann, who used to teach adults how to do the same thing in a two-day seminar, said part of the goal is to demystify the computer.
"Hopefully they will grow up with confidence on how to use it and how to repair it," Spann said.
The computers come from businesses who are replacing old computers and looking for ways to dispose of them. In a way it's a green program, Spann said.
Saturday's class was working with Dell Pentium 4 desktop computers. And, while they might have been trash to some businesses, the computer will definitely be an upgrade for 18-year-old Jason Gaumer, who until Saturday was using a 1995 Dell.
"This is going to be about nine years newer," Gaumer said.
Copyright 2018 The Lawrence Journal-World. All rights reserved. This material may not be published, broadcast, rewritten or redistributed. We strive to uphold our values for every story published.