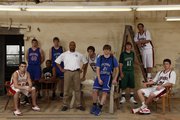 Bobby Davis diving for loose balls. Robbie Wright shooting threes. Lance Kilburn mixing it up inside. All were easy calls to predict when talking about the 2008-09 version of the Lawrence High boys basketball team.
But none of them were quite as easy as naming senior guard Dorian Green the Journal-World's All-Area Boys Basketball Player of the Year.
In leading the Lions to a 13-9 record this season, Green averaged 22.6 points per game and was among the team's leaders in several other categories including rebounding, assists, blocks and steals.
But it was not just Green's numbers that made him the run-away winner for All-Area Player of the Year. The 6-foot-1 Green also brought plenty more to the table for the Lions.
"Dorian Green is the best player I've ever coached," LHS coach Chris Davis said. "And not just because he was such a great scorer but because he was such a great competitor and such a great teammate."
Both of those are the primary reasons Green was able to excel so much while on the court.
"I didn't really set out to be player of year," Green said. "I just wanted to do whatever it took to put the team in position to win."
More times than not that involved scoring. Green scored 26 or more points eight times this season. His season high was a 37-point explosion in a loss to Blue Valley. In that one, he scored 19 in the third quarter alone. He also scored 34 on two different occasions, the most memorable of which came in a pre-winter break victory against Shawnee Mission Northwest.
"I would probably say the Shawnee Mission Northwest game at home was my best," Green said. "It was just one of those games where we could see where we were as a team. Nobody thought we could go out there and win, but we really played well together and got a big win."
Just a few nights later, Green delivered what Davis remembered as his biggest moment of the season.
"His three-pointer at Free State to tie the game was a pretty big moment," Davis said. "That game is such a big game and for him to step up, with everyone in the gym knowing he was going to do it."
The Lions won in overtime that night and Green scored 26 points, none more important than the three to tie it with less than 10 seconds to play.
That seemed to be the most amazing thing about Green's senior season. Sure he improved his game in the offseason, became a better passer, a more tenacious scorer and even a better shooter. But with the defensive focus on him every night, Green still managed to deliver.
"Part of it was the team needed him to," Davis said. "He got a lot better at taking the ball to the basket. His assertiveness was way better this year. He was talented enough to be able to attack and when the other team put all the attention on him he was able to give the ball to someone else. He wanted to win."
Throughout the season, Green played under a microscope as intense as any prep player in Lawrence history. Fans were wowed by his every move, media attention from around the state skyrocketed and college scouts became regular visitors to the Lions' gym.
Through it all, Green, who orally committed to play basketball at Division I Colorado State University on March 16, remained the picture of poise.
"I just wanted to show how well-rounded my game could be," Green said. "The biggest focus was just trying to lead the team. If anything, even if I didn't play well, I wanted to show that I was a winner and that I loved to compete."
Copyright 2018 The Lawrence Journal-World. All rights reserved. This material may not be published, broadcast, rewritten or redistributed. We strive to uphold our values for every story published.