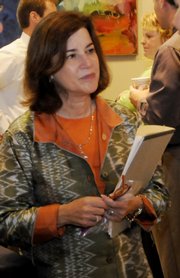 Businesses can help secure our future economic vitality by investing in early childhood development, according to a panel of economic and childhood development experts.
It's a question of nature vs. nurture, they told a crowd of several hundred business and government leaders Friday at Maceli's, 1031 N.H. If young children aren't given the attention they need, they will be less likely to excel academically and work collaboratively with others.
Employers should help parents offset the costs of child care by providing incentives and opportunities that allow for early childhood development, said Chip Blaser, Douglas County Community Foundation executive director.
"When we talk about economic development, we talk about investment in people," said Rich Minder, a Lawrence school board member and part of the Douglas County Leadership Delegation on Early Learning.
More than 53 percent of women with infants in the United States are working.
"They need child care," Minder said. "Their productivity now depends on the availability and affordability and the quality of early learning programs."
Panelists said that providing quality early childhood care lays the groundwork for a future thriving economy, as children with sound emotional development grow to take the helm of business.
"The real payoff comes later, when the children that are in high-quality programs become our future work force," Minder said.
Ellen Galinsky, president of the New York City-based Families and Work Institute, said research is finding that children make critical gains in the development of their brains before they set foot in a classroom.
"Kids are born learning," she said.
Rick Gaskill, a clinical director at Sumner Mental Health Center in Wellington, said that important bonding relationships are formed between parents and infants, setting the foundation for children to become healthy, well-adjusted adults.
A close relationship between parents and infants means that future businesspeople develop necessary skills while they are still in swaddling clothes.
"All learning and our economic development and our future economic vitality really rest on a solid foundation of early childhood and the way the children grow in the first years of life," Minder said.
After a question-and-answer session, attendees, which included a number of legislators and candidates, discussed how Douglas County businesses can work to foster the kind of childhood development necessary to compete in a global economy.
Copyright 2018 The Lawrence Journal-World. All rights reserved. This material may not be published, broadcast, rewritten or redistributed. We strive to uphold our values for every story published.