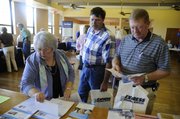 Linda Major sat on a bench outside the Lawrence Senior Center and looked through a pamphlet about the Avon cosmetics company.
Major, 63, picked up several pamphlets and brochures Thursday when she attended the Senior Employment Expo organized by Douglas County Senior Services, 745 Vt. She was looking for a part-time job.
"I could use the money. There's a lot of opportunities in there," she said.
Major, however, thought she had decided on applying for a job at Perkins Restaurant, 1711 W. 23rd St., where she would prepare salads and other food for a few hours a day.
"I can't do anything too strenuous," the Lawrence woman said.
Dozens of people over age 50 attended the expo, which also included workshops that provided tips for writing resumes, handling interviews and making career transitions.
A variety of 20 Lawrence area employers set up tables to recruit prospective employees during the second annual expo. Representatives from Kansas University, Johnson County Community College and Pinnacle Career Institute also provided information about continuing education programs.
"I think we are seeing a lot more employers who are interested in hiring older workers for a number of reasons," said Janet Ikenberry, the center's community services program manager. "One is reliability; one is their knowledge base. They have a wealth of knowledge."
Older employees are also loyal and they are a good influence on the younger workers, said Debbie Hanson, a representative for Jackson Hewitt Tax Service.
"A lot of times it's good for them to interact with the baby boomer generation. Everybody wins," she said.
John Frye, 51, took early retirement from a previous job and was looking at new job prospects at the expo. He completed an application for Douglas County Visiting Nurses, Rehabilitation and Hospice Care. The agency could use people who can go to the homes of clients and handle maintenance-type jobs.
"I do maintenance work, janitorial work," Frye said.
Job hunters showed up early at the expo, before some of the businesses had set up their tables, Ikenberry said. She said she wasn't surprised at the interest.
"There are actually people who retire and find out they don't want to stay home all day and are looking for something different," she said.
Copyright 2018 The Lawrence Journal-World. All rights reserved. This material may not be published, broadcast, rewritten or redistributed. We strive to uphold our values for every story published.