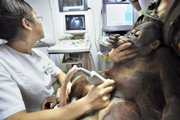 Shanghai, China — A lion cub and two baby orangutans have developed kidney stones at a zoo near Shanghai, making them the latest victims of China's tainted milk crisis.
The three baby animals had been nursed with milk powder for more than a year, said Zhang Xu, a veterinarian with the Hangzhou Zhangxu Animal Hospital.
The powder was made by the Sanlu Group Co., which is at the center of the tainted milk crisis. The industrial chemical melamine has been found in a growing range of Chinese-made dairy products, and it has been blamed for sickening more than 50,000 infants in China and killing four.
The orangutans and lion cub at the Hangzhou Safari Park near Shanghai were found with kidney stones Wednesday after concerned officials sent them to Zhang for a checkup.
"The milk powder crisis made us very worried about the health situation of baby animals," Ju Lijia, the animal park's public affairs manager, said by phone Wednesday. "We stopped feeding with Sanlu after it was found to be tainted."
The three animals were the only ones found with kidney stones, Ju said.
Officials at the Beijing Zoo and zoos in the other major cities of Shanghai, Guangzhou and Xian said they had no cases of animals sickened from milk powder.
An official at the world's most famous panda reserve, the Wolong Nature Reserve, said the baby pandas there are not fed milk formula.
Seeking wet nurses
A scandal over tainted infant formula and milk sweeping across China has revived business opportunities for a once-condemned practice: the hiring of wet nurses.
Ads from nursing mothers who want to earn money feeding other infants have popped up on Web sites, and urban agencies that offer household help say inquiries about wet nurses have soared from new mothers worried about contaminated infant formula.
Just a few decades ago, Mao Zedong denounced the practice of paying for wet nurses as decadent.
Copyright 2018 The Associated Press. All rights reserved. This material may not be published, broadcast, rewritten or redistributed. We strive to uphold our values for every story published.