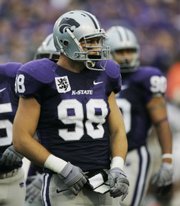 Manhattan — Ron Prince found the focus for his future as the football coach at Kansas State in his past.
He grew up 20 miles from campus, the son of a retired Army noncommissioned officer and was exposed to the hard work that characterized young military leaders.
But it took an invitation by a new Fort Riley officer who was training a battalion for war and a drive past the post to crystalize what he wanted from his players to become.
"To see how squared away they are, the professionalism," said Prince, sitting in his office, his voice filled with passion talking about the soldiers. "That's what we want these guys to be here at Kansas State. Clearly, we don't play the same game. The training is very physical, the rush of competition is there. But clearly they are training for something much more serious than we are."
Since Prince came to Kansas State, the Wildcats and soldiers have trained together and played together. And Kansas State has become the only nonmilitary college to award a Black Lion regiment patch, an honor that goes to a player who demonstrates leadership and sacrifices for the good of his team.
"We have a lot more in common than we have differences. What we're training for, not even close," Prince said. "But how we're trying to reach young people, our challenges are similar."
Prince said the connection hit him one night while driving to Junction City: Both he and the commanders of the 1st Infantry Division take young people, aged 18-22, train them for careers and try to help them avoid distractions. Prince has 125 players; the division, 15,000 soldiers.
Prince had also received a letter from Lt. Col. Patrick Frank, then-commander of the Black Lions infantry regiment, who wanted to develop a relationship with the Wildcats. Frank thought the connection would benefit the players and the soldiers.
Frank and Prince clicked from the start - and soon, so did players and soldiers.
During his first season, Frank gave some of Prince's recruits and their parents a tour of "what the Army is like."
Two hours later, Frank said, "the parents were hugging our soldiers."
"That's how tight of a bond they developed in those few short hours," Frank said. "Really, the core of the partnership is about leadership."
Prince and Frank, now the division's operations officer, organized a six-week joint training schedule for their men in 2007, but deployment orders cut those plans to just one cold day. Soldiers and players competed on Fort Riley's Custer Hill, including a long run and obstacle course. The soldiers returned from Iraq in April and they haven't had a chance to train with the players since then, but Prince and the regiment hope to organize another session together.
Recently, Frank presented Prince and the Wildcats with the Army's Patriotic Civilian Service award, recognizing the team for meeting with families of soldiers deployed to Iraq and running a football camp for their children.
Ian Campbell, who moved from defensive end to linebacker to help the team, wore the first Black Lion patch awarded during 2007 and is wearing it again this year.
Copyright 2018 The Associated Press. All rights reserved. This material may not be published, broadcast, rewritten or redistributed. We strive to uphold our values for every story published.