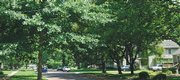 Welcome to our ongoing project, LJWorld.com/Green. Here you can find tips on how to make your life environmentally friendly and read stories about what others in the community are doing to live a more green lifestyle. Eat local, conserve resources, be green.
Related document

Green Living ( .PDF )
This is the year for talk about which states are red and which ones are blue.
But in the midst of an energy crisis and rising concerns over carbon emissions, some are focused on a different color: green.
And in the past year, Kansas has been shaded as a murky brown.
In 2007, Forbes magazine ranked Kansas No. 31 when it comes to protecting the environment.
Environment America, in a report on the nation's clean energy policies, identified Kansas as one of 16 states where "efforts lag significantly behind those in ... the rest of the country."
In a state scorecard released by the American Council for an Energy-Efficient Economy, Kansas was No. 34, receiving poor marks for how much utilities spend on conservation, tax incentives, appliance standards and transportation policies.
One area where Kansas falls behind others, alternative energy advocates say, is the lack of compensation - known as net metering - that homeowners receive for the alternative energy they produce and do not use. That extra energy gets sent back into the electric grid.
"For Kansas, the matter now is not forward thinking; we are just trying to get into the 20th century," said Aron Cromwell, vice president and CEO of the Lawrence-based Cromwell Environmental.
Turning on the switch
According to the Interstate Renewable Energy Council, Kansas is one of a half dozen states that don't have a net metering law.
The way most net metering laws work is that when customers who generate their own power, such as solar, generate more power than they actually use, they can in essence run their meter backward. But often the return is just less than half the true cost of the electricity, or roughly about 3 cents per kilowatt hour compared with a retail rate of about 7 cents.
Advocates for a net metering law would like the alternative energy producers to be paid the retail rate or something closer to that 7 cent marker.
"We have nothing in the state of Kansas to help us out," said Cromwell, who has installed photovoltaic and solar hot water panels in the region.
Net metering would encourage homeowners and particularly businesses to build larger solar power systems, he said.
Jim Ploger, manager of climate and energy programs for the Kansas Corporation Commission, said not having net metering discourages small wind and solar companies from selling their products here. Some vendors even ignore Kansas.
"The pay-out is so far out in the future, it's not economically viable," Ploger said.
More importantly, Ploger said, the very fact that Kansas doesn't have a net metering law can be a detractor for big-scale renewable energy businesses (like wind farms and turbine manufacturers) looking to locate to the state.
"We're not practicing what we preach. Net metering has no factor in commercial wind farms, but it is part of an image," he said.
Kansas and solar energy are a nice fit. The state has decent potential for capturing the sun's rays (not as strong as Arizona, but not as weak as New Hampshire). And, solar energy is often at its best when electric companies need it the most - on those 100-degree-plus days in August when air-conditioners are cranking.
Installing solar panels would help electric companies on those peak days.
"A few kilowatts here and few kilowatts there and pretty soon it starts to add up," Ploger said.
A good idea?
Not everyone believes that net metering is such a good idea or that it's fair. Among them is Dick Rohlfs, Westar Energy's director of retail rates.
Rohlfs agrees that electric companies should pay small alternative energy producers more than just the fuel costs. The reimbursement should also cover the savings from incremental operation and maintenance costs and the energy that is lost to get the electricity from the plant into the system.
But the retail price isn't a fair one either, he said.
Of Westar's 670,000 customers, only 50 to 60 of them produce energy that can be sent back into the electric grid. And, only around five produce more energy than what they take from Westar in a given month.
When the wind stops blowing and the sun no longer shines, those customers rely on Westar for backup energy. And they expect the company to have generation equipment and transmission lines to provide them with electricity, he said.
But, if those alternative energy producers were reimbursed at retail rates, that capacity is a cost they wouldn't be paying, Rohlfs said.
"We are there to serve them whenever they demand energy," Rohlfs said.
And David Springe, consumer counsel for the Citizens' Utility Ratepayer Board, is afraid it's a cost that will get passed along to everyone else who pays the electric bills. As the appointed representative for utility consumers, Springe sees net metering as a way to subsidize electricity for those who have the thousands of dollars to install solar panels.
Those who couldn't afford them would be on the losing end, Springe said.
If there are going to be subsidies, Springe said he would prefer they go toward energy conservation efforts for low-income housing.
State Rep. Tom Sloan, R-Lawrence, said there needs to be a middle ground.
"Yes we need to provide incentives to assist in meeting the total energy need. But we also need to recognize that a utility has the responsibility to be a provider of last resort. And they have costs associated with that responsibility," Sloan said.
From proposal to law
At the last legislative session, a net metering law for solar energy was proposed as part of a packaged energy deal. Overshadowed by the political fireworks from the proposed coal-fired power plant in Holcomb, it received little attention.
It wasn't the first time the matter was before state lawmakers. And Sloan suspects it will come back.
Cromwell is among those who would like the issue to return to the Capitol.
Cromwell testified before the Missouri Legislature, which passed a net metering law last year. He predicts that it will take more lobbying and funding before something similar is enacted in Kansas.
"It's just the beginning. It's just a small step," Cromwell said. "But it's sad if we fall behind Missouri in our level of progressiveness."
Copyright 2018 The Lawrence Journal-World. All rights reserved. This material may not be published, broadcast, rewritten or redistributed. We strive to uphold our values for every story published.