On the street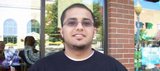 Yes, I would. I used to work for UPS, and it's very beneficial to be part of a union. They watch your back and take care of you, so I think it's a good idea.
The bus drivers who transport Lawrence public school children may soon become members of the Teamsters union.
A federally supervised election is scheduled take place on Friday, during which the approximately 140 school bus drivers and bus monitors - who work for the large international transportation company First Student - can vote to join the union.
A Teamsters field representative has been standing on the public sidewalk outside the First Student bus barn at 1548 E. 23rd Street for several days. The main issues of the election, he said, are wages and benefits.
"They're not paid very well for the amount of responsibility they have," said Gordon Ament, a field organizer for the union. "They haul our most precious resource, children, but are really underpaid for what they do."
Wayne Zachary, contract manager for First Student's Lawrence operations, said the company tries to be fair with wages it pays, and had been successful in hiring a full slate of drivers. He said the company is taking a hands-off approach with the union issue.
"Our policy is that they're free to associate or not to associate," Zachary said. "We back ourselves out of it and tell them that it is up to them."
Zachary said bus drivers are paid a starting wage of $10.60 an hour, and bus monitors are paid a starting wage of $8.30 an hour. Both positions are guaranteed at least two hours of pay for every route that they run. The company does not pay for any health insurance benefits for drivers or monitors, Zachary said.
The bigger issue for citizens may be whether a unionized force of bus drivers will end up increasing the school district's transportation costs. First Student has a contract to provide bus service for the school district through the 2011 school year. Zachary said it doesn't appear that the contract contains a provision allowing the company to pass along higher union wages to the school district.
Rick Gammill, who supervises transportation issues for the school district, agreed. He said the district's transportation costs - about $3.5 million per year - are locked in through 2011. The only thing that can cause the contract amount to increase is higher fuel prices.
"The average citizen I don't think will notice anything from this," said Gammill, who said the district is neutral on the union vote. "No increase in taxes or fees."
What impact it could have after 2011 can't be known until after the bus company and the union have negotiations, if it even comes to that, Zachary said.
In terms of how much wages could go up if a union is established, the Teamsters representative said that is tough to say.
"We don't guarantee them that they'll get any certain amount of raise," Ament said. "We just promise them that they'll be well-represented.
Results of the election should be known by early Friday evening.
Copyright 2018 The Lawrence Journal-World. All rights reserved. This material may not be published, broadcast, rewritten or redistributed. We strive to uphold our values for every story published.