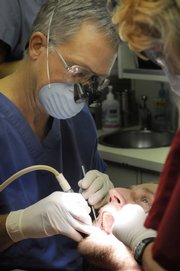 On the street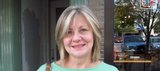 Twice a year, every six months. That's the schedule my dentist recommends. I had a lot of dental problems when I was young, and I don't want to repeat them.
Free dental care.
That's all it took for a line to begin forming at 4 a.m. Friday in the parking lot of the Douglas County Dental Clinic, 316 Maine.
A team of dentists, hygienists and support staff volunteered to provide free care to the first 60 uninsured people who showed up. By 8 a.m., those slots were filled. About 25 people had been turned away by 9 a.m., and more were throughout the day.
"Dental insurance is very expensive, and a lot of people just can't afford to purchase it, and a lot of people who even have dental insurance have a hard time with the co-pays, deductibles and such," said Julie Branstrom, executive director of the clinic. "It's really tough when it comes down to whether or not you can put food on your table or whether you can spend a little bit of money to go see the dentist and have a checkup."
That's exactly what Darren Hadl, of Lawrence, has to decide. He's a self-employed carpenter, and the housing market downturn in Lawrence has affected his bottom line.
"You have to prioritize. It's either you eat or get your teeth fixed, and my teeth aren't in bad enough shape that I can't eat," Hadl said.
He considered the free dental clinic a late birthday present - he turned 42 on Tuesday.
"It was karma," he said.
Lawrence resident Ryan Shaughnessy, 23, is a student at Johnson County Community College and hasn't had dental or health insurance since he turned 18. While most people dread going to the dentist, he was excited about getting his teeth taken care of.
"It's wonderful," Shaughnessy said just before getting four cavities filled. "I know tons of people without insurance.
In fact, he said his girlfriend, who just became a teacher, won't have insurance until next month.
Shaughnessy found out about the dental clinic through Health Care Access, which provides health care for low-income and uninsured residents. It teamed up with Douglas County Dental Clinic to sponsor the first dental clinic in Lawrence.
Branstrom said they hope to make it an annual event, but finding the necessary volunteers is key. Friday's event involved about 50 people, including about a dozen dentists and hygientists. They completed 60 examinations, 51 fillings, two root canals, 16 extractions and six cleanings. The value of the care was estimated at $14,578.
Dr. John Hay, who has been practicing in downtown Lawrence for 21 years, said his help at the free clinic paled in comparison to what the Douglas County Dental Clinic provides on a daily basis.
"There's a lot of hard-working volunteers and a lot of people who do this on a daily basis," he said.
He said the free clinic just pointed out the health care issues that Americans face.
"The reality is, this is what it is like every day, and health care in America increasingly has more and more people who don't have access to care, and we have a long way to go still to effect good change," he said.
Copyright 2018 The Lawrence Journal-World. All rights reserved. This material may not be published, broadcast, rewritten or redistributed. We strive to uphold our values for every story published.