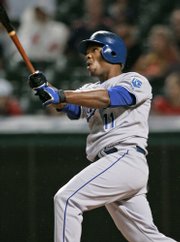 Kansas City, Mo. — Jose Guillen said he was sick. Despite some cryptic comments the night before, his manager corroborated his account.
Guillen was back in Kansas City's lineup Wednesday against Seattle, a day after being a late scratch against the Mariners. Royals manager Trey Hillman corroborated his account after causing confusion the night before by saying the mercurial outfielder had been scratched based on a managerial decision.
"Last night he was a late scratch simply because I didn't feel it was in our best interest and his best interest for him to be in the lineup," Hillman said. "He didn't feel well."
Guillen was initially in the lineup for Tuesday's game against the Seattle Mariners, batting third and playing right field. Less than a half hour before the game, the Royals announced he had been scratched.
Hillman said after the game that he had made a late managerial decision to scratch him from the lineup, that the rest of the story should be kept in-house.
With any other player on Kansas City's roster, maybe, that wouldn't raise an eyebrow. With Guillen, the initial thought was that he did something wrong - again.
The highest-paid player in franchise history, Guillen has been on a disruption-a-month plan almost since the day he signed a three-year, $36 million contract.
After a relatively quiet first month of the season, Guillen called his teammates "babies" during a 12-game losing streak in May. June brought a profane tirade about how he "could care less" about the home fans who were booing him.
On July 5, Guillen had to be separated from pitching coach Bob McClure in the clubhouse in Tampa Bay. And just last month, he had a sitdown with general manager Dayton Moore after confronting a heckling fan during a game against Texas.
Guillen hadn't had an outburst in September yet, so there was concern that something other than an illness led to his late scratch against the Mariners.
Copyright 2018 The Lawrence Journal-World. All rights reserved. This material may not be published, broadcast, rewritten or redistributed. We strive to uphold our values for every story published.