Photo Gallery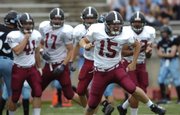 LHS football vs. Shawnee Mission East
Overland Park — Twenty plays. Eighty yards. Ten minutes off the clock.
In a single drive Saturday, the Lawrence High football team answered plenty of questions about its offense and left Shawnee Mission East with a few for its defense.
When things were sorted out, the Lions walked away with a 24-7 victory, their second straight, marking the first time since 2005 that the Lions have started a season 2-0.
"We're starting something new," said LHS senior Clifton Sims, who logged nine carries for 30 yards and added a crucial fourth-down catch during the opening drive. "This is the first time since 2005 that we've opened a season with two straight wins and that means a lot. We're playing for LHS and we want to make everyone proud."
The opening drive did just that. In addition to Sims' nine carries and one catch, senior tailback Jake Green added 29 yards on seven carries and senior quarterback Clint Pinnick was 2-for-2 through the air, including a 25-yard touchdown strike to Aaron Rea on fourth-and-25.
The TD pass was actually the third of the drive - all three coming on fourth down - but the first two were called back because of LHS penalties.
"The first two didn't count," Rea said. "But we threw three touchdowns in a row on fourth down. That just shows how much heart we have. That drive set the tone for the whole night."
It actually did more. LHS coach Dirk Wedd said the opening drive was key because it kept SM East's high-octane offense on the sidelines.
"That's an old Lawrence High drive right there," Wedd said.
East answered the Lions' drive with a lengthy drive of its own. The Lancers traveled 82 yards in 15 plays and scored a tying touchdown when quarterback Curran Darling found Marcus Webb for an eight-yard TD strike.
From that point on, the LHS defense stiffened and the LHS offense continued to dominate.
After a 24-yard field goal from senior Spencer Scott, LHS took a 10-7 lead into halftime. The Lions followed that up with equally impressive scoring drives in the second half. The first covered just 19 yards and was set up by an interception by Pinnick. Six plays later, Pinnick rumbled into the end zone to give the Lions a 17-7 lead.
On its next possession, LHS unleashed a back-breaking 15-play, 83-yard drive that took 8:11 off the clock. Green scored from a yard out to push the lead to 24-7.
"Our offensive line took a lot of flack this week," Rea said. "But they stepped up big-time tonight and we ran it down their throats."
Sims finished the night with 175 yards on 31 carries - a total that matched his jersey number - while Green added 58 yards on 17 carries. As a team the Lions racked up 253 yards on the ground and finished with 372 yards of total offense.
Like Rea, Wedd praised the LHS offensive line for the bulk of the production.
"We challenged those kids up front this week," he said. "To play at this school, you have to have a bunch of toughness. And they really showed a ton tonight."
While the LHS offense stole most of the spotlight, its defense turned in a second straight solid night. After giving up 82 yards on the Lancers opening drive, the Lions buckled down and limited East to 81 yards the rest of the game.
Darling was held to 11-of-31 passing for 105 yards and the Lancers' rushing attack gained just 58 yards on the ground. Early in the fourth quarter, LHS sacked Darling on three straight plays. Rea and sophomore Darren Sorem were involved in two of the sacks, and junior Jay Baker chipped in on the third. The final takedown, which put an end to the Lancers' hopes of a comeback, produced a fumble, which junior Dom Reiske pounced on.
The number that mattered most to the Lions, however, was East's total on the scoreboard.
"What can you say about our defense," Pinnick asked. "Ten points in two weeks, not too many teams have done that."
The circumstances surrounding Saturday's game made the Lions' performance even more impressive. Originally scheduled for Friday night at Haskell Stadium, the game was moved to noon Saturday at Lawrence High because of severe weather. That changed early Saturday morning when LHS officials discovered standing water on the high school field.
"We went out on our field and kids could've drowned," Wedd said. "Here, you couldn't even tell it had rained. All of the changes and that stuff, I think it brings out a little character in a football team. And I thought our guys showed a lot of character tonight."
Copyright 2018 The Lawrence Journal-World. All rights reserved. This material may not be published, broadcast, rewritten or redistributed. We strive to uphold our values for every story published.