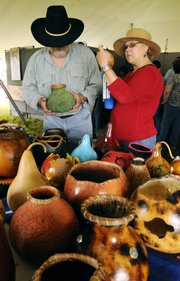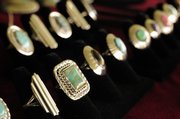 Water-soaked grounds forced the cancellation of some performances but did not hold crowds back from partaking Saturday in the 20th Annual Haskell Indian Art Market.
"It's just water - I'm not made of sugar," said Ursula Foster of Kansas City, Kan., as she strolled Haskell Indian Nations University's Powwow Grounds.
About 140 vendors set up their stands beneath tents, selling a variety of jewelry, pottery, paintings and other items.
The wet weather prevented some vendors from making the trip and spurred the cancellation of two of three daytime music and dance performances, but market-goers did not seem to mind.
"We've got some die-hard fans who come out here," said Kerry Girty, booth coordinator for the market. "They're walking through in flip-flops. Some of them have the mudboots on."
Some festival-goers headed straight to the food area for frybread. Others slowly meandered along the rows of arts and crafts.
"The people are so nice here," said Cherie Marshall, of Lawrence, who went to the market with her sister. "They have jewelry that's super nice and reasonable, and it's handmade."
The market continues today from 10 a.m. to 5 p.m.
Copyright 2017 The Lawrence Journal-World. All rights reserved. This material may not be published, broadcast, rewritten or redistributed. We strive to uphold our values for every story published.