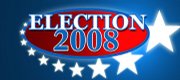 In-depth coverage of the candidates and the issues, all leading up to the Aug. 5 primary and the Nov. 4 general election.
Lee's Summit, Mo. — Several thousand people turned out to greet GOP presidential candidate John McCain and his vice presidential pick Sarah Palin on Monday in the Kansas City area.
"This state, we must win, and we will win," McCain said at the Pavilion in John Knox Village, where a capacity crowd of 3,000 people stood inside and a roughly equal number listened over speakers outside.
They offered some of the same rhetoric against Democratic candidate Barack Obama and his vice presidential candidate, Delaware Sen. Joe Biden. that they presented during last week's GOP convention in St. Paul, Minn.
McCain attacked Obama for being soft on defense and national security and promised to oppose "pork barrel" legislation.
"We're going to work for you and we're going to drain the swamp in Washington, D.C.," McCain said, repeating a phrase he used at the convention.
McCain and Palin criticized Obama over the amount of money he has requested for his home state of Illinois, even though Alaska, under Palin's leadership, has asked Washington for 10 times more money per citizen for pet projects. They said Obama requested nearly $1 billion in earmarks for his state during his time as a senator. That line of attack came after Obama made his first direct criticism of Palin over the weekend, using the topic of earmarks, which are special projects that lawmakers try to get for their districts and constituents.
"Just the other day our opponent brought up earmarks - and frankly, I was surprised that he would even raise the subject at all," Palin said. "I thought he wouldn't go there."
World War II Marine veteran Don Sypkens, of Kearney, Mo., and his son, Steve Sypkens, of Columbia, Mo., liked what they heard during the short speeches.
"I think he's a good man for the job," Don Sypkens said.
Steve Sypkens said he just wanted to show support for McCain and Palin "so people aren't saying that Obama has all the people."
Steve Sypkens wife, Linda, listened outside the building to the speeches. "I think there was a great energy," she said. "I'm going to do whatever I can do to help get them elected."
Souvenirs were plentiful. At a table covered with campaign buttons, vendor Sharon Young said the best-selling button was one that read: "Read My Lipstick; Vote McCain/Palin."
Copyright 2018 The Lawrence Journal-World. All rights reserved. This material may not be published, broadcast, rewritten or redistributed. We strive to uphold our values for every story published.