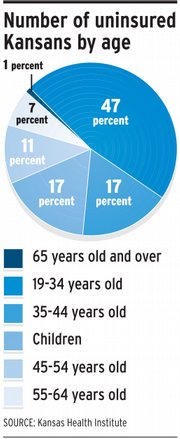 Ertie Evangelista, 63, of Baldwin City, has been receiving health care at the safety-net Health Care Access clinic for a number of years.
"It has been a lifesaver," said Evangelista, who raised four children and can't afford private health insurance. "I probably wouldn't be here if it hadn't been here."
She said it's no surprise to her that the number of Kansans without health care coverage is on the rise.
"You're not eligible to get state aid, and you can't afford private health insurance, and you're not working for a big company with good benefits - there are too many people falling through the cracks," she said.
The percentage of Kansans without health insurance coverage increased last year to 12.5 percent, up from 11.3 percent the previous year, according to recent U.S. Census Bureau figures. That means some 340,000 Kansans are without coverage.
Kansas was one of only 10 states that saw an increase in the uninsured, although its percentage still is lower than the national average of 15.3 percent, which decreased from 15.8 percent in 2006.
"The price of health insurance is making it less accessible to more and more folks, whether they can't participate in their employers' health insurance or their employers are no longer providing that benefit," said Nikki King, executive director of Health Care Access, 1920 Moodie Road.
King said Health Care Access treated a record number of people in 2007 - 1,589 patients - and 2008 is on track for another record, probably 2,000 patients.
The volume is growing so rapidly that clinic officials are trying to decide whether to expand on-site or get a satellite office.
King said it is apparent from the national figures that more people are "shifting toward government programs" to get health care coverage.
Kansas offers Medicaid and the State Children's Health Insurance Program, which is called Healthwave.
But King said Kansas lacks an active outreach program to get folks enrolled who are eligible for those programs.
"That is part of the missing link," she said.
In the United States, many people get health insurance through their employer. Approximately 57 percent of Kansans receive coverage this way.
But the number of employers offering coverage is decreasing, and the number of workers who enroll in employer-based health coverage also is decreasing because of increased copayments and deductibles.
In Kansas there are more obstacles, according to Marcia Nielsen, executive director of the Kansas Health Policy Authority, which has been fighting for health care reform.
Kansas is among the bottom of states offering public-funded health coverage to low-income adults. An adult must earn less than $4,000 per year before he or she can apply for Medicaid, Nielsen said. A program that would have provided funds for low-income adults to purchase private insurance was recently repealed.
"It's clear that we have not as a state been able to make great headway," Nielsen said.
Evangelista, who now has diabetes and kidney problems, volunteers at the clinic every chance she can.
Her husband, William, was disabled after a massive coronary when he was 32. He defied the odds and lived 30 more years, until 2006.
While his health coverage was taken care of, Evangelista said she had to scramble to provide care for her children and herself when raising the family.
Sometimes, she said, that meant getting a veterinarian to sew up a cut or provide antibiotics.
Of her children, she said, "Thank God I'm done raising mine. I don't know how mothers do it now."
Asked whether there should be guaranteed health coverage, she said, "Definitely, definitely, definitely. They need something out there."
Copyright 2018 The Lawrence Journal-World. All rights reserved. This material may not be published, broadcast, rewritten or redistributed. We strive to uphold our values for every story published.