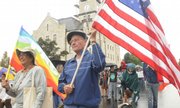 About 60 peace activists marched Saturday down Massachusetts Street in an event that marked six years of anti-war demonstrations.
"The country seems to have lost interest in ever bringing peace," activist C.J. Brune said. "There was a lot of interest six years ago and even five years ago. Now it's like business as usual."
Men and women, young and old, participated in the march. They carried flowers, flags and signs displaying such statements as "Give peace a chance."
"We're celebrating that it's too bad the Iraq war is not over," activist Richard Heckler said. "The troops are not home. They need to stop spending our money and killing everybody."
The vigil and march was headed up by the Lawrence Coalition for Peace and Justice.
The group's members can be seen in front of the Douglas County Courthouse on Saturdays. The group began demonstrations in 2002, months before the U.S.-led invasion into Iraq that began in March 2003.
Several activists said they are watching the presidential election closely.
But some said they aren't happy with the promises of either Republican candidate John McCain or Democratic candidate Barack Obama.
"Neither candidate has come out as strongly for peace and negotiation kinds of things," activist Roma Earles said.
Brune echoed a similar sentiment, voicing some disappointment with both parties.
"The Democrats are just slightly better than the Republicans as far as an anti-war platform," she said. "But they're not bring-'em-home-now people by any means."
Brune said the activists intend to continue spreading their message for peace.
"We definitely want to keep out in front of the public eye that a war is going on, a needless, absolutely stupid war," she said.
Copyright 2018 The Lawrence Journal-World. All rights reserved. This material may not be published, broadcast, rewritten or redistributed. We strive to uphold our values for every story published.