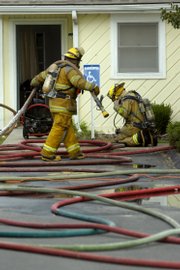 Lawrence Douglas County Fire and Medical battled a structure fire at a triplex at 2832 Iowa Street.
No one was injured in the fire but six people who lived in the triplex were displaced, according to Lawrence-Douglas County Fire & Medical. Crews responded about 4:20 p.m. to reports of smoke coming from a unit of the apartment complex.
Eight Fire & Medical units were dispatched and 20 personnel were assigned to the incident, according to a media release. One apartment in the unit was unoccupied.
The six occupants of two neighboring units were displaced by the fire and expected to receive assistance from the Douglas County chapter of the American Red Cross.
The cause of the fire, which caused an estimated $70,000 in damage, remains under investigation.
Copyright 2018 The Lawrence Journal-World. All rights reserved. This material may not be published, broadcast, rewritten or redistributed. We strive to uphold our values for every story published.