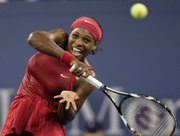 New York — So little to separate them over their careers, so little to separate them on this night.
Serena Williams barely got the better of older sister Venus Williams in a U.S. Open quarterfinal that was fit for a final, coming back in each set to win, 7-6 (6), 7-6 (7), Wednesday night and break a tie in their head-to-head series.
Serena trailed 5-3 in both sets. She faced set points in both, including eight in the second. But she advanced to the semifinals at Flushing Meadows for the first time since 2002, the year she beat Venus in the title match for her second U.S. Open championship.
It was the siblings' 17th meeting as professionals, and Serena leads 9-8. That includes 11 matches at Grand Slam tournaments, where Serena leads 6-5.
She also has the edge in major championships, 8-7, and only she can add to that total this weekend.
"It's really just unfortunate it had to be in the quarters," Serena said.
In the semifinals, the fourth-seeded Serena will meet No. 6 Dinara Safina, who advanced earlier in the day by overpowering No. 16 Flavia Pennetta, 6-2, 6-3. No. 2 Jelena Jankovic will face No. 5 Elena Dementieva in Friday's other semifinal.
Tough to imagine either of those contests could come close to producing the quality or competition managed Wednesday by a couple of sisters who grew up honing their strokes on the same court in Compton, Calif. Both played brilliantly, smacking serves upwards of 115 mph, hitting groundstrokes and volleys that would be the envy of nearly every other woman on tour, chasing down balls with "You thought that was a winner?!" defense.
"If it was someone else," Venus said, "I definitely feel like I would have won the match."
In the end, they were separated by three total points, 101-98. Venus had an 8-7 edge in aces. Both double-faulted five times. Both broke serve twice.
The seventh-seeded Venus had all sorts of chances to take control, but in the end, as both women's play reached a very high level, it was Serena who pulled through. In the second tiebreaker, Venus had four set points - and Serena saved them all.
"I'm a very good closer," Venus said, "so today was, um - I've never had a match like this in my life, so I guess there's always a first."
In contrast, when Serena earned her first match point, nearly 21â2 hours into the match, she converted it, when the Venus ended an 11-stroke exchange by missing a forehand.
Copyright 2018 The Lawrence Journal-World. All rights reserved. This material may not be published, broadcast, rewritten or redistributed. We strive to uphold our values for every story published.