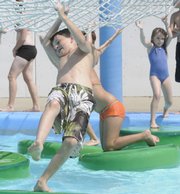 A rough game of water basketball - no drown, no foul - was under way at one end of the Lawrence Outdoor Aquatic Center. The pool's sound system carried an '80s pop-rock song that was as dead as this summer's season of fun.
Monday was the final day the city's outdoor swimming pool was open to the public. For many, the Labor Day holiday also marks the unofficial end of summer, although on the calendar the season stretches until Sept. 21.
"It went by fast," said Kansas Fiori-Brown, a ninth-grader at Bishop Seabury Academy.
At Clinton Lake, fast was the pace as boaters battled with waves on the verge of whitecaps, but mainly lamented the congestion. The boat ramps and parking lots at the Clinton Lake Marina were nearly full.
For Mike and Cheri Thompson, of Lawrence, it was one more summer of sharing family fun with their two teenage children. Boating is still an activity they're willing to share with mom and dad.
"They can't do it on their own because they haven't learned how to back the trailer," Mike Thompson said with a laugh as he stowed away gear on his pontoon boat at the top of a steep boat ramp.
Although activity at the lake is expected to slow down with the passing of the Labor Day holiday, it won't stop. Several boaters said they'll be on the lake well into October, despite fuel prices that make it more expensive to keep outboard motors rumbling.
"This is our fun," Linda Beeman said. "You take the family to the movies, you're going to spend $30 or $40. You might as well come out here and spend that for a full day of boating."
The fun at the pool isn't quite done yet, either. From 4 p.m. to 7 p.m. today, the pool will be open for the annual Pooch Plunge. People can bring their dogs to the pool and allow them to swim around for $5, as long as they bring papers showing the animals have been properly vaccinated.
But for Kansas, the fun is over. He came to the city swimming pool about two times per week. Now, he'll do "school stuff," he said. He plays a little football and runs some cross country, but the hardwood is more his strength.
And then he remembers the best thing about the end of summer: It means we're one season closer to basketball.
Copyright 2018 The Lawrence Journal-World. All rights reserved. This material may not be published, broadcast, rewritten or redistributed. We strive to uphold our values for every story published.