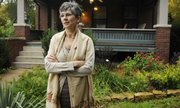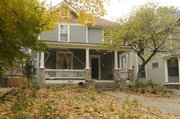 Ouch! I just took a peek at my latest IRA statement. What a topsy-turvy economy we have to endure right now. I keep thinking to myself, "Thank goodness I'm not looking to kick up my heels and retire soon, or having to send my children off to experience those pricey collegiate years just yet."
But I do own a house, and its value is probably plummeting exponentially with each sentence that I sit here and write.
When we were in the market for our home a handful of years ago, my husband and I both thought that houses couldn't possible continue to increase at such a speedy rate. At the time, most homes in Lawrence seemed to cost about a $100,000 per bedroom! We began pondering a nice palapas (thatched roof structure) on the beaches of Mexico with some hammocks for the family. After all, who needs walls and indoor plumbing? But alas, we found a modest and ancient house that was in dire need of some "sweat equity."
In our neighborhood of Old West Lawrence, the allure must be all about location, location, location, because every home needs constant work. It makes perfect sense when the mean age of a home in OWL is 110! Ours tips the scales at around 135. You'll have lead paint issues, rotting wood, closets fit for a Barbie doll's wardrobe, kitchens quarantined to the back depths of the abode, basements with dirt floors and sweeping front porches eroding into the earth. You name the home malady, and the residences of OWL can absolutely, positively feel your pain.
However, our neighborhood established a wonderful award to pay homage to these difficulties.
The Applause Awards were born around 9 years ago by a group of OWL residents with the idea of recognizing the perpetual hard work some neighbors were religiously embroiled in. A committee was formed that gathers once a year for a potluck dinner to discuss possible candidates for the prestigious awards.
"Membership on the committee gives us an excuse to do what we would probably do anyway, namely, to stroll the street and alleys and admire our lovely neighborhood," says Angela Candela, chairperson of the OWL Applause Committee. "It is a civilized gesture to acknowledge our neighbors that would be a great idea for any neighborhood."
The awards are doled out three times a year, with four awards presented at each interval - the winter season is overlooked as most people are hibernating and steering clear of outdoor improvements. The recipients receive a certificate and an iron plaque that is prominently pierced into the front garden in a place of distinction. The awards are given out to homeowners who have tackled large and impressive jobs that surely took a hit to their pocketbooks, but those smaller, "sweat equity" projects are never overlooked. Either counts for trying to make a difference in beautifying your neighborhood. Even businesses in the neighborhood are eligible.
Candela explains the criteria: "Our candidates need to have done something to improve the appearance of their property which is visible to passers-by. If they have redone their backyard and installed a fence to obscure the view, we would not acknowledge that, but if the backyard improvements are visible from the alley we would."
Jerry Masinton has sat on the committee and received the award.
"It was encouraging to have the neighborhood acknowledge our efforts," he says. "It was a constant source of delight, in fact. These awards make everyone in OWL happy to live in the neighborhood and inspire them to make their own residences more attractive."
Masinton's advice to those who set out to make home improvements: "There is always at least one problem behind the problem you set out to fix."
Phoebe Godwin agrees. She and her husband, Phillip, have lived in their OWL home since 1968. "It helps show pride in the neighborhood and inspire others to also make the effort. Restoration of an old house is always unpredictable," she says.
Susan and Brad Tate have been perpetually enveloped in some fix-up project or another with their stately old home. Susan relishes the award they received: "It's encouraging, almost as much as tax credits! The idea of a neighborhood award seems like a great way to draw positive attention to homes when they receive the care they need."
One of the aspects of Lawrence, and most towns, that make it so fascinating is the collection of neighborhoods, whether you live in the West Hills neighborhood or North Lawrence, the Deerfield neighborhood or Breezedale, maybe the Oread neighborhood or a neighborhood that hasn't coined a name yet. I would be quite keen to see this idea for neighborhood beatification awards seep into all these areas. After all, with housing costs and the economy in the state that they are in, we all might be staying put for quite some time. Might as well make the place look pretty.
Copyright 2018 The Lawrence Journal-World. All rights reserved. This material may not be published, broadcast, rewritten or redistributed. We strive to uphold our values for every story published.