On the street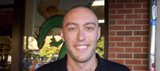 I am going to be a wizard, and I'm going to the Halloweenie Roast in Kansas City. There are a couple of bands playing there, so it should be a good time.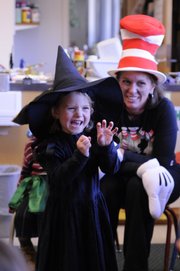 Past Event
When: Friday, October 31, 2008, 4:15 p.m.
Where: Lawrence Arts Center, 940 New Hampshire St., Lawrence
Cost: $5
-->
-->
Plenty of Halloween activities for people of all ages will be happening this evening.
The city of Lawrence invites boys and "ghouls" to fill their goodie bags while trick-or-treating between 6:30 p.m. and
8:30 p.m.
The Parks and Recreation Department encourages local residents who want to give out treats to leave porch lights on.
For an earlier start, the Downtown Lawrence Halloween Trick-or-Treat begins at 5 p.m. Downtown merchants will greet children with treats and Halloween trinkets.
There are plenty of other treats and frights to delight all ages for the Halloween holiday. Take your pick, if you dare, from among these events:
¢ Children's Halloween Concert and Costume contest, 4:15 p.m., Lawrence Arts Center, 940 N.H., $5, all ages, This year's concert will feature Arts Center regulars Ric Averill, Jennifer Glenn, a special appearance by Jeanne Averill and Lawrence's own minstrel Steve Mason. There will be a costume parade for all audience members. Costumes will be judged. All "grand prizes" are donated by the show's sponsor, Fun and Games.
¢ Haunted Halloween Open House Celebration, 4 p.m. to 8 p.m., free, all ages, 1709 Bullene. Spooky open house to celebrate the Lawrence Community Housing Trust's 30th house in three years.
¢ Trunk or Treat, 6:30 p.m. to 8:30 p.m., 2295 N. 1300 Road, Eudora. Family of Faith will host its annual event and will raffle a 32-inch LCD HD TV and an Xbox 360. Food, drinks, treats and games will be provided.
¢ "Haunted Haskell Tours," 8 p.m. to 10 p.m. $5, 13 years old and up. Haskell Indian Nations University will be hosting an "after-hours" flashlight walking tour of Haskell's notoriously haunted buildings. A guide will lead people through campus buildings with a number of stories detailing the untold haunted history of Haskell. Haskell was founded in 1884 as an industrial training school for American Indian children. The tour begins at Haskell Cultural Center and Museum at the corner of Barker and Indian avenues.
¢ During Christal K-9's treat giveaway, 10 a.m. to 5 p.m., 3115 W. Sixth St., owner Liz Devin and staff will give away treat bags for children, dogs and cats. Parents will receive a coupon for free services, such as half-day canine sitting.
Past Event
When: Friday, October 31, 2008, 4 p.m. to 8 p.m.
Where: 1709 Bullene Avenue
Cost: Free
-->
-->
Past Event
When: Friday, October 31, 2008, 5 p.m.
Where: Downtown Lawrence, Lawrence
Cost: Free
-->
-->
Past Event
When: Friday, October 31, 2008, 6:30 p.m. to 7:30 p.m.
Where: Central United Methodist Church, 1501 Massachusetts, Lawrence
-->
-->
Copyright 2018 The Lawrence Journal-World. All rights reserved. This material may not be published, broadcast, rewritten or redistributed. We strive to uphold our values for every story published.