-->
On the street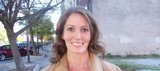 Yes. We bought new storm windows this summer, and I just moved my herbs and flowers inside.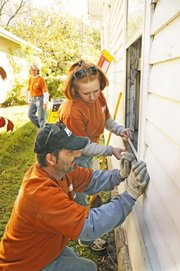 Gladys Rennels has been living in a white house on Maine Street south of Lawrence Memorial Hospital since 1962. Her house is 79 years old and features an old coal furnace that's been converted to operate on natural gas.
"We never had any trouble with it," she said.
Usually, her sons and grandsons help her prepare her home for the winter. They fix the roof and cover windows to keep out the cold. But on Tuesday, Rennels got help from a different source: Black Hills Energy, her natural gas provider.
Black Hills employees nationwide volunteered to join the company's weatherization teams to help customers in need get their homes ready for winter's freezing temperatures. Weatherizing homes helps keep homes warmer while conserving energy and saving money.
"Here in Lawrence we're working (Tuesday) and Thursday, and we're going to do about 10 homes," said Curt Floerchinger, a communications manager for Black Hills, formerly Aquila. "Throughout the entire company, we plan to do approximately 300 homes."
Floerchinger said it was important for homeowners to start weatherizing their homes before dropping temperatures make that task difficult or impossible. Some materials, such as caulk, cannot be properly applied when it is very cold.
"This is about the time (to weatherize), but I think the cold weather snuck in little quicker this year than it usually does," said volunteer Chris Braden. "There wasn't really a fall this year. It's kind of just gone straight to cold weather."
The chosen Lawrence customers were identified by local organizations, Floerchinger said.
"We went to the senior center, and a lot of places we go to the energy assistance agencies and ask them to help us find people in need," he said.
And Rennels was on the list.
"Today we're putting plastic on the windows," Floerchinger said. "We're caulking around cracks in the foundation. We found a broken window and we repaired that with some plywood." The team also did some basement insulation work.
Rennels is thankful that Black Hills volunteers worked on her home Tuesday, and thinks their assistance will help some homeowners survive this winter.
"Everybody should appreciate it because some of them may not have help," she said.
The Cold Weather Rule
Several U.S. states have what is called a Cold Weather Rule to ensure that customers unable to pay utility bills will have electric and gas service for their homes during the winter. The law is active in Kansas from Nov. 1 through March 31. To sign up, customers must make payment arrangements with the utility company.
Under the Cold Weather Rule, a utility company cannot discontinue service when the forecast is below 35 degrees or temperatures are expected to go into the mid- to low-30s within the next 24 hours, according to the Kansas Corporation Commission.
Copyright 2018 The Lawrence Journal-World. All rights reserved. This material may not be published, broadcast, rewritten or redistributed. We strive to uphold our values for every story published.