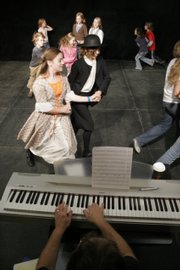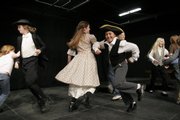 Nicole Olson is OK with the idea of Halloween if it's just about dressing up, but she doesn't like to feel chills down her spine.
"I love Halloween," she says, "but I'm not big on being scared. I don't like haunted houses."
That didn't keep the Free State High School senior from being part of a pair of children's productions this weekend at the Lawrence Arts Center, 940 N.H.
"Sleepy Hollow" and "Dolph Heyliger," two ghost stories adapted by Ric Averill, the arts center's drama program director, make up the center's Halloween holiday offerings for children this weekend.
The productions are at 7 p.m. Friday, 2 p.m. and 7 p.m. Saturday, and 2 p.m. Sunday. Tickets are $8.50 for adults and $6.50 for students and seniors.
"Dolph Heyliger," a little-known ghost story by Washington Irving, is first on the program and will be performed by the older child and teen actors. It's about the apprentice to a doctor who is sent to the doctor's haunted mansion.
"I wouldn't even call it scary," Nicole says. "Maybe a little chilling."
"Sleepy Hollow" is based on "The Legend of Sleepy Hollow," also by Irving, and will be performed by the younger set of performers. That well-known tale is about Ichabod Crane and the headless horseman.
"It's trying to be scary, but not really," says Phoebe Clark, a seventh-grader at Central Junior High School.
Though these are ghost stories, Averill says parents with children ages 4 and up should feel comfortable taking their children to the performance.
"It's a little scary - they're ghost stories," he says. "But it's not puddles-on-the-floor scary."
Both shows include a "set" created by Danny Rogovein out of shadow puppets projected onto a screen.
In addition, anyone who attends Friday's performance receives free admission to the Catskills Carnival after the show. That event, also at the arts center, will include games, fortune telling and other family activities.
Averill says the plays showcase the ever-improving talent among child and teen actors in Lawrence.
"It's great," he says. "These kids are just getting stronger."
George Runyan, a sixth-grader at Cordley School who plays Ichabod Crane, says he's enjoyed working on the ghost stories - even though he usually isn't a fan of scary movies.
"Ric's a really good director," George says. "I'm having good time."
Copyright 2018 The Lawrence Journal-World. All rights reserved. This material may not be published, broadcast, rewritten or redistributed. We strive to uphold our values for every story published.