Photo Gallery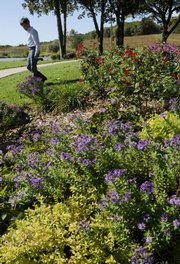 Lohmann retirement retreat
Fuzzy and Jay Lohmann are hilarious. They have a banter with each other that clearly stems from a long, spirited and rarely dull marriage.
The two greet me at their sprawling estate just west of Lecompton along the Scenic River Road. Scenic is the optimal word, since their retreat is indeed stunningly beautiful.
As a Lawrencian and wanderer of the highways and dirt roads that surround our area, I've found that only an extremely lucky and relative few can boast of a view from their homes of any Kansas water feature.
This is the first home and garden I have witnessed that has a view of the mighty Kaw. A gorgeous, clear-as-a-bright- autumn-day view of the Kansas River and its massive current is a magnificent sight and the catalyst for the Lohmanns in choosing this pristine retreat to hone their gardening prowess. Nestled on the bluffs above the river, the Lohmanns have created 73 acres of peaceful bliss and an extraordinary second home.
"This is not our home but our retreat," says Fuzzy. "We spend four or five nights a week out here and spend the rest of the days in Topeka. We bought this place to garden. I was raised on a farm, and we just wanted to get back to the outdoors and a rural area."
Why retire just down the road from where you live? Well, the Lohmanns scoured the country. They looked to retire in New Mexico, Colorado or Wyoming, but their love of Kansas, their deep roots in the area and their mutual distaste of travel led them to this lovely home away from home.
"We really enjoy gardening; I think it has kept us together," Jay says. "We have a huge common interest in it. Plus to board a plane and go somewhere like Hawaii, you'd have to drug me!"
Who needs the crashing ocean waves when you have a brilliant view right from your porch of the bald eagles nesting?
Jay says, "It's funny. We didn't even know this view was here until we started clearing up this shrubby area. Wow! We also see a lot of canoes floating down the river in the fall. We'll holler at them. The view of the eagles in December and January is quite remarkable. It is very peaceful at night with the exception of the train you don't hear a thing."
The backyard with the view of the river has curving walkways and tiered flower beds, all encompassed by a wooden picket fence. There is Japanese bloodgrass, knockout roses, big hostas and hydrangeas, and a giant weeping conifer. The Lohmanns start cruising the discount stores this time of year looking for good steals on plants. Fuzzy also traipses around the parks looking to steal plant selections and general ideas.
"Fuzzy is artistic, and this is her canvas," Jay says. "We argue every time she buys plants."
Jay has a robust sense of humor as I ask the two what they do out here in the wild other than garden.
"We spend two or three hours a night arguing about something, we like to listen to music," he says. "We love to dance; we've danced that deck to a silky smooth finish."
The property has two ponds, one of which is manmade and stocked to the gills with well ... gills. It has a sturdy metal deck and a whimsical metal deer sculpture that stands watch over the water feature. Willy, the Pekinese poodle mix, has something to say about just about everything. I imagine life out at this retreat is particularly amicable for Willy, although they have a plethora of wildlife and, if Willy isn't careful, a coyote or bobcat will show him who is actually boss.
The Lohmanns have a hearty vegetable garden with five or six raised framed beds that grow such savories as tomatoes, potatoes, onions, beans and lettuce.
"We don't preserve, can or eat anything saved. We eat fresh and organic, or we give it away," Fuzzy says.
Jay comments, "I've been a vegetarian since I was 4, and Fuzzy will eat raw steak if need be. We never considered livestock because we'd give those cows names and never sell any of them."
The hills above the property have been seeded with a wildflower and native grasses mix; the rolling mounds glisten with ambers and crimson shades. Jay takes me for a ride on a four-wheeler to see the undeveloped part of their retreat, get a glimpse of where the grandkids camp out and see the vista. What a view!
"It is about the peace and quiet and, of course, the gardening," Fuzzy surmises. "That is what I love about living out here."
Copyright 2018 The Lawrence Journal-World. All rights reserved. This material may not be published, broadcast, rewritten or redistributed. We strive to uphold our values for every story published.