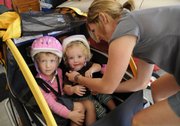 Eliza Nichols loves riding her bicycle with her two daughters towed in a trailer behind her.
"Riding bikes makes me feel like a kid again," Nichols says. "So the bike trailer gives me a new sense of freedom. Going down hills and hearing my girls scream, 'Wheeee' is so much fun, plus a great workout."
The International Bicycle Fund says bike trailers, which are showing up more frequently on Lawrence streets, may be safer than bike seats because if a child does fall from the trailer, it's not as far to the ground.
Dan Hughes, owner of Sunflower Outdoor & Bike Shop, 804 Mass., says trailers are a good option for parents.
"Trailer sales have been brisk," Hughes says. "With gas prices so high, lots of folks are looking for other ways to get around and beat the cost of filling the tank. Add to that a nationwide obesity epidemic and the resulting desire to exercise more, and more and more people are riding bikes. I think it's only natural to want to bring kids along. Plus their safety record is actually really good. With their five-point harnesses, bright colors, tall flag and metal-framed enclosures, trailers can be a really safe and fun way to tote kids around."
Hughes uses one himself with his three children.
"I think as soon as I learned we were expecting our first child (Arthur), I immediately bought a trailer," he says. "I was probably more excited than Arthur. We started with Arthur, moved on to Charlie, and now we're finishing up with Harold. Along the way we were able to put one or two of the boys in there at a time, and when they were ready, move them out to a bike of their own."
Jennifer Roth and her two children have found another trailer application.
"It is not only a trailer but a stroller," she says. "It is very lightweight and easy to push. It has plenty of room for two kids. It has lots of storage in the back; you can fit an entire mornings worth of goodies from the Farmers' Market in there."
Copyright 2017 The Lawrence Journal-World. All rights reserved. This material may not be published, broadcast, rewritten or redistributed. We strive to uphold our values for every story published.