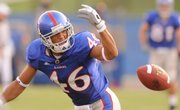 Spodcasters
Spodcasters Pregame: KU-ISU
The guys (Tom Keegan, Jesse Newell, Dugan Arnett) discuss why KU's matchup against Iowa State might be tougher than some fans think. Topics of discussion also include the color pink, playing running back like a sponge and Iowa State athletes that never seem to graduate.
Two games into the 2008 season, it was hard to imagine the Kansas University pass defense playing any better.
Following victories over Florida International and Louisiana Tech, the Jayhawks had held FIU to a paltry 73 passing yards, never given up more than 119 passing yards in a game and had yet to yield a touchdown through the air - or ground, for that matter.
In the weeks since, however, the Kansas pass defense has faltered greatly, dropping to eighth in the Big 12 in the category and creating a significant cause for concern entering a conference season in which the Jayhawks are slated to play four teams currently ranked in nation's top seven.
The trouble began in Tampa, Fla., when a 338-yard, two-touchdown performance by South Florida quarterback Matt Grothe allowed the Bulls to overcome a 17-point deficit and hand Kansas its first - and only - loss of the season.
The following week, former Oklahoma quarterback and current Sam Houston State signal-caller Rhett Bomar made a noisy return to the Big 12, throwing for 340 yards in a closer-than-the-score-indicated 38-14 loss.
In both games, Kansas endured a multi-faceted letdown: The rush defense was essentially non-existent, while the secondary was regularly susceptible to big plays.
"At times, yeah," said safety Justin Thornton, asked if the recent struggles have been frustrating. "For the most part, we felt we were in control, but we let something slip. We felt like we were in control, then we let something slip. It was frustrating at times, but that's just how the game works."
The Jayhawks are hoping the game works a bit better today, as injured cornerback Kendrick Harper is expected to play for the first time since leaving Kansas' Week 2 victory over Louisiana Tech on a stretcher.
Harper, who has battled injuries since arriving at Kansas from Butler County Community College prior to the 2007 season, started the team's first two games, and his return likely will mean red-shirt freshmen Isiah Barfield and Ryan Murphy and true freshman Corrigan Powell will have more time to gain experience in more limited roles.
Their baptism was a rough one, as each looked his age against two formidable college quarterbacks.
"They look young; they look like young guys that are trying to learn their way," Mangino said of the replacement cornerbacks. "... We knew that if we had an injury to any corner, we would have this issue, and unfortunately, we had an injury to one of our corners."
The team's bye week was largely spent shoring up fundamental problems, and among those, the Jayhawks' pass defense was given significant focus. Three of Kansas' four regular secondary starters from last year returned this season, and they haven't forgotten the regularity with which the 2007 team managed to shut down opponents' passing games. The Jayhawks finished second in the Big 12 in pass defense a season ago while recording a league-high 23 interceptions (the second-highest team total was 17).
And with things about to get much more difficult - after Iowa State, the Jayhawks will face Colorado, No. 1 Oklahoma and No. 7 Texas Tech - the unit's veterans are being proactive in making sure things improve quickly.
"Everybody in the secondary - me, (safety Darrell) Stuckey and (Thornton), we told everybody this week, 'We're done making all the mental mistakes,'" cornerback Chris Harris said. "We're not going to have the coaches get onto us, we're going to do it ourselves."
Copyright 2018 The Lawrence Journal-World. All rights reserved. This material may not be published, broadcast, rewritten or redistributed. We strive to uphold our values for every story published.