Health department to join in literacy effort
The Lawrence-Douglas County Health Department is participating in Kansas Reads to Preschoolers Week by having two readings of the book "Bear Feels Sick" by Karma Wilson.
Health department staff members are going to daycare centers, daycare homes and the Lawrence Public Library to read aloud to children.
"The fact that it's a health subject matter is something we're playing off of," said communications coordinator Lisa Horn.
On Thursday, staff members will have a public reading at the Lawrence Public Library at 7 p.m. and then again on Friday at 10:30 a.m.
"We anticipate that 425 kids in Lawrence and Douglas County will be reached by the campaign," Horn said.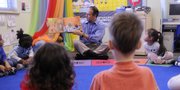 The state's lead law officer is tackling an issue that he believes should start at an early age — reading.
"I just would encourage everybody just to read to their kids," Kansas Attorney General Stephen Six said Wednesday, after reading "Bear Gets Sick" at Lawrence's Raintree Montessori.
"And if you can turn off the computer, if you can turn off the television, and start a routine of doing that every night, you're really going to help your kids do well in education."
Six's motivation for reading with children at Raintree was two-fold. He wanted to promote the value of reading — and he thought it would be fun to spend some time at his 3-year-old son Will's preschool.
The attorney general, who lives in Lawrence with his family, is participating in a Read to Preschoolers Program, sponsored by the State Librarian and Gov. Kathleen Sebelius. He also read Community Children's Center Head Start.
"The idea is to encourage reading at home and make sure people are reading to their kids as much as they can," Six said.
Other children in the class were just as excited as Will to have the special reader. The teachers were thrilled too.
Pam Shanks, a Raintree teacher, supports the idea of reading to children more.
"Research supports reading causes positive attitudes toward learning. It helps the kids to be ready for reading and learning, and helps with their vocabulary," she said.
Nora Gerami, a 5-year-old in the program, said she enjoys sitting down and reading a book. It has an added bonus of solitude.
"I don't get to see my brothers," Nora said.
Six said if parents start early reading with their children, it will pay dividends.
"There's studies that show that more words a kids hears and the earlier they hear them, the better they're going to do," Six said.
Copyright 2018 The Lawrence Journal-World. All rights reserved. This material may not be published, broadcast, rewritten or redistributed. We strive to uphold our values for every story published.