Photo Gallery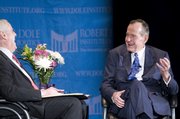 Former President George H.W. Bush visits the Dole Institute of Politics
Former President Bush accepted the Dole Institute of Politics' 2008 Leadership Prize on Sunday, Nov. 16, 2008.
Highlights of Bush discussion
Why he chose a career in public service: "I was lucky. I had a father who inculcated into his kids the idea that public service is a noble calling, and I still feel that way."
Why the first Gulf War was his most significant presidential achievement: "It ended this canard that our military was no good and our military was on the ropes after Vietnam. They weren't."
The help he received from Sen. Bob Dole, R-Kan., the Senate minority leader: "Bob followed in character. That's the way he was to me the whole time I was president."
His "Read my lips: No new taxes line" that opponents hammered him with in the 1992 campaign: "I think in terms of the budget and effect on the economy (the tax increase) proved to be right. In terms of the politics, it proved to be wrong because the words were so flamboyant that people never let me forget it."
Advice for President-elect Barack Obama: "He's going to find the tough realities of politics, and he's going to find that you have to compromise from time to time."
His son's handling of the current Iraq War: "These calls are not easy for a president. On that one there was a lot of controversy, but you didn't hear much about it in the campaign. Why? Because it's going better. The surge is successful."
His work raising disaster relief and relationship with President Bill Clinton, after a story about Clinton giving Bush an airplane bed and instead sleeping on the floor: "He didn't have to do that. He was extremely considerate and kind to me."
On comedian Dana Carvey's impressions of him: "He's a good man. His humor never was mean. He sure stung at times, but it was never hurtful. You never thought it was vicious."
Former President George H.W. Bush said the phone call in 1980 came "out of the clear blue sky" and it was "the luckiest thing that ever happened to me."
He had recently lost the presidential Republican nomination to then California Gov. Ronald Reagan, but just before the Republican National Convention, Reagan called his former political rival to offer him a position on the GOP's ticket.
"I saw up close what I hadn't seen when I got to be his running mate - his innate kindness and courtesy and just a wonderful human being, and I think that did come through to the American people," Bush said.
From a chair Sunday afternoon at Kansas University's Lied Center, Bush - the nation's 41st president - recounted several similar stories about his long political career and several critical events and issues.
Bush accepted the Dole Leadership Prize from the Dole Institute of Politics after his one-hour interview with Bill Lacy, the institute's director.
In response to a written question from presidential historian Richard Norton Smith, the first Dole Institute director, Bush also recalled when a reporter in the Oval Office asked why he didn't do what congressional Democrats suggested and "dance on the Berlin Wall" to take credit after Cold War symbol fell in 1989.
"I didn't tell her this, but that's the stupidest idea I've ever heard," Bush said.
He was wary about how the Soviet Union's military would react, and he didn't want to risk a "victory lap" for political clout when it could undermine Soviet leader Mikhail Gorbachev and might diminish the chance for a final peaceful solution as the former Communist empire was beginning to break up.
Bush recounted several stories from his presidency, choosing to focus on the relationships he has formed with others like Reagan, President Bill Clinton and Sen. Bob Dole.
"There can be no definition of a successful life that does not include service to others," he said.
KU Chancellor Robert Hemenway said he enjoyed Bush's stories about interactions with others in office.
"It makes you realize the presidency is a very human task, and it takes a very strong human being to take on those tasks and conduct them successfully," Hemenway said.
Bush also said he considered the victory in the first Gulf War his most significant achievement; defended the surge strategy for the current Iraq War; and said he has called President-elect Barack Obama to congratulate him on his "historic" election.
The crowd was mostly supportive, and even applauded the former president for saying that his son, current President George W. Bush, has received unfair treatment from the media during his two terms.
Anti-war hecklers did interrupt Bush's talk three times. Lacy had asked them to be civil, but one heckler mentioned "genocide" and "war crimes."
KU Public Safety officers escorted about a half dozen people out of the auditorium for interruptions as most of the crowd booed or tried to hush them.
"I thought the situation was handled well because the Dole Institute is dedicated to nonpartisan politics - that you believe strongly in your political views but you share them in a respectful way," Hemenway said.
Bush later said that type of criticism usually comes with a political career.
"These guys yelling at me - that doesn't bother me anymore. It just goes with the territory. You have to get used to it," he said.
KTWU, the PBS affiliate that airs on Sunflower Broadband channel 11, plans to broadcast the talk at a later date as part of a Dole Institute and KTWU series "Minds that Matter."
Copyright 2018 The Lawrence Journal-World. All rights reserved. This material may not be published, broadcast, rewritten or redistributed. We strive to uphold our values for every story published.