Photo Gallery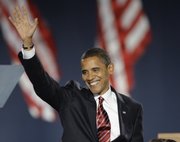 President-elect Barack Obama addresses crowd in Chicago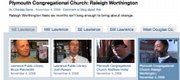 Voters throughout Douglas County share their Election Day thoughts.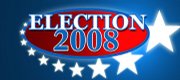 In-depth coverage of the candidates and the issues, all leading up to the Aug. 5 primary and the Nov. 4 general election.
Photo Gallery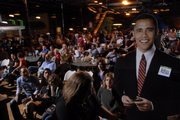 Election night in Lawrence
-->
-->
-->
Chicago — (Chicago Tribune) - Streaming into an unparalleled moment in history, tens of thousands lit up Grant Park with a display of Election Night electricity not seen in generations. Under crystal skies and a crescent moon, they came from across the country and around the world, stood shoulder-to-shoulder and cheered joyously for President-elect Barack Obama, each drawn for reasons as diverse as the faces around them.
"The energy is shifting," said Linda Robb, a white woman from Buffalo Grove who burst into tears as Obama won. "There is a transformational shift happening - consciousness is being raised."
"My father had to ride on the back of the bus," said Page Cooper, a commodities broker from the West Side. "Now look at where we are."
Paul Reinhardt, a white Detroit resident, sat along the periphery of the pandemonium with his four adopted children, who are all black: "One day, they will look back and say they were here in Grant Park when the first African-American became president of the United States. To me, that means anything is possible."
Rukaya Abdallah, 13, came from River Forest with her mother. She looked at the people around her, and something she heard on television during the long campaign suddenly registered.
"Different cultures," she said. "Everyone's coming together."
They were never more together than when official word came that Obama would become the 44th president of the United States. A deafening cheer erupted from the crowd - a frenetic, grinning, often teary-eyed mix of whites and blacks and Latinos and Asians. In an homage to the Obama campaign's rallying cry of "Yes, we can!" the more than 150,000 revelers thrust their fists in the air and chanted "Yes, we did! Yes, we did!"
Marcie Rogers began to weep uncontrollably and shriek, "Thank you, Lord!"
"I never thought I would live to see a black president," she said, holding a tissue to her eyes. "I've lived through segregation."
Outside the park, cars on Michigan Avenue honked their horns, the noise blending with whoops and whistles from the sidewalks to form a victorious cacophony.
Katrina Oroye strolled through the chaos with her 6-year-old son, BaBa Tunde. "I know that I can tell him that he can be anything that he wants to," she said.
Clutching his mother's hand, the boy took her words to heart.
"I want to be a better person," he said. "I want to be president."
The only quiet moments of the evening came when Obama took the stage about 11 p.m., his voice echoing across the park as the swollen crowd looked on with rapt attention.
Just before Obama walked out, Allan Landau, a 53-year-old from the River West neighborhood, reflected on the presidential campaign he had helped as a volunteer on the streets of Chicago. Born in Canada, Landau is not yet a U.S. citizen and was unable to vote. But that didn't take away from the emotion of the moment.
"This might be the happiest day of my life," he said. "This might be the most important day in American history."
Throughout the evening, Michigan Avenue bustled with crowds like New Year's Eve. Some people were bound for the tickets-only section of Grant Park to see Obama live. Others headed toward the Jumbotrons, and some chose to simply wander the sidewalk soaking in the scene.
Amanda Geppert of Bucktown walked by the park on her way to watch election results with friends. She snapped pictures as she passed.
"I want to get photos that show a sense of the overall feeling here, the moments that make this night," she said, noting plans to e-mail the photos to friends across the country. "This is a night I'm proud to be a Chicagoan."
The signs that something special was happening were everywhere, from the unseasonably warm temperatures to the good-natured mood of the revelers.
To the north of the park, the Blue Cross and Blue Shield Tower was lit up to read "USA," while just west of there the Smurfit-Stone Building declared "Vote 2008" on its slanted diamond roof.
"I've never been to anything like this before in my life. And I don't think I ever will again," said Aurora native Julian West, 30. "It's a lot of brotherhood and sisterhood. Solidarity is happening here."
Emblematic of the lengths some took to attend the rally, Jonathan Metzl drove straight to Chicago from the University of Michigan campus after teaching a class Tuesday.
He spoke about how Obama's story reinforces some of the lessons from his past.
"My father came from Europe, escaped from Nazis. America has always been a refuge, there was a sense we are stronger because of our diversity," Metzl said. "You stand in this crowd today, and you realize that message is still alive."
Cheering, screaming and weeping with joy, an estimated 50,000 Barack Obama supporters welcomed his election Tuesday night in a delirious victory celebration in the senator's hometown.
Many had crammed into Grant Park to be a part of something that would be remembered for generations.
"I want her to be able to tell her children when history was made, she was there," said Alnita Tillman, 50, who kept her 16-year-old daughter, Raven, out of school so they could be at the park by 8 a.m., more than 10 hours before the gates opened.
The crowd went wild with joy as the news that Obama would be the nation's first black president flashed across jumbo TV screens in the park where Obama was to speak later that night. Many held both hands high up in the air, waved American flags, jumped up and down and cheered.
As Obama left his Hyde Park home in a motorcade, heading for the festivities, residents rushed out of their homes and lined the streets to wave, clap and cheer.
The downtown Chicago park - where police fought anti-war protesters during the turbulent 1968 Democratic convention - was transformed on an unseasonably balmy night by white tents and a stage lined with American flags and hung with red, white and blue bunting.
Lighted windows in the skyscrapers lining the park added to the festive atmosphere, spelling out "USA" and "Vote 2008."
The crowd erupted in cheers each time an Obama victory was announced in another state.
The rally felt like a cross between an outdoor rock concert and a big family outing. Many people wore Obama T-shirts and buttons and ate pizza. By 9 p.m. several babies slept on their mothers' chests. Other children snoozed in strollers.
In the crowd was Lisa Boon, 42, of Chicago, who said she burst into tears earlier in the day pondering what an Obama victory would mean.
Boon said her father was the cousin of Emmett Till, a 14-year-old black Chicagoan who was abducted and killed in Mississippi in 1955, purportedly for whistling at a white woman.
"I was thinking of all the things done to Emmett and injustices to black people," she said. "This is amazing, simply amazing."
Stephanie Smith, 27, and her husband flew in from Nashville, Tenn., and staked out a spot on the sidewalk with folding chairs and a box of doughnuts early in the morning.
Even without tickets, Smith said it would be worth it to be standing in the park to hear the words, "Our next President of the United States is Barack Obama."
Copyright 2018 The Associated Press. All rights reserved. This material may not be published, broadcast, rewritten or redistributed. We strive to uphold our values for every story published.