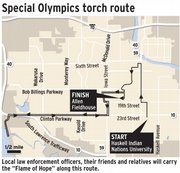 The Kansas Special Olympics torch run returns to Douglas County today for the first time since the 1990s.
A dozen local law enforcement officers will participate in a relay run while carrying the torch 15.5 miles. They will represent the Douglas County Sheriff's Office, Lawrence Police Department and Kansas University Public Safety Office.
"We had discontinued it, and we're just trying to bring it back," Sheriff's Lt. Kari Wempe said.
The local officers will be among more than 600 Kansas officers and their friends carrying the torch, called the Flame of Hope, through 24 counties in statewide runs that began Tuesday. The runs will culminate at 6:30 p.m. Friday with a ceremony at Wichita City Hall before the final leg of the run takes the torch to Cessna Stadium on the Wichita State University campus. A cauldron will be lighted to open the Olympics for thousands of athletes, coaches and their fans.
The Special Olympics is a year-round program of sports training, education and competition for more than 1 million people with intellectual disabilities.
Law enforcement officers raise funds for Special Olympics. Local officers who are running had to raise at least $25 each, Wempe said.
"We're here to protect and to serve and our Special Olympians are our angels on Earth," Wempe said. "We're here to protect them and do what we can to help them fulfill some of their dreams."
The run starts at 9 a.m. at Haskell Indian Nations University. A group of Special Olympians will be there to give the officers a send-off.
The torch will be carried up Learnard Avenue to 19th Street and then down Massachusetts Street. At Seventh Street officers will head west to Indiana Street and through the KU campus. By 10 a.m. the torch will arrive at the intersection of Iowa Street and Clinton Parkway. Officers will then run to Clinton Dam before retracing the route and finishing about 12:30 p.m. at Allen Fieldhouse.
The last leg of the route will be run by Haskell softball coach Gary Tanner and his son, Brady Tanner, a Special Olympian weightlifter.
Copyright 2018 The Lawrence Journal-World. All rights reserved. This material may not be published, broadcast, rewritten or redistributed. We strive to uphold our values for every story published.