On the street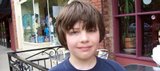 Yeah. I'm looking forward to going down the slides and going across the lily pads.
Even the kids have to deal with inflation this year.
As adults lament the rising price of gasoline, Lawrence youth - beginning today - will have to get used to higher outdoor swimming pool prices.
When the outdoor pool - 727 Ky. - opens at 1 p.m. today some fees will be more than $1 higher than a year ago.
"Our costs for operations are rising," said Ernie Shaw, interim director of parks and recreation. "Last year we saw costs rise faster than our revenues were able to keep up."
City commissioners approved the new fees last year as part of the 2008 budget process. But today's opening marks the first time the higher rates will be charged at the outdoor pool.
The biggest jump comes for children 5 to 12 years old. They'll now pay $3 to enter, up from $1.75 a year ago. Youth 13 to 17 years old also will pay $3, up from $2.50 a year ago. Senior citizen prices also increased from $2.50 to $3. Adult admission is now $4, up from $3.75.
The new fees have been charged at the city's Indoor Aquatic Center since Jan. 1. Jimmy Gibbs, the city's aquatic's manager said, the higher prices have not had a negative impact on attendance.
Shaw said his office also hasn't received many complaints.
"I think people realize they're still getting a pretty good deal," said Shaw.
The department also has promoted its annual and monthly passes and punch card systems that provide discounts from daily admission rates.
The Outdoor Aquatic Center will be open from 1 p.m. to 8:45 p.m. daily - except for reduced hours on July 4 - through Aug. 12. From Aug. 13 to Sept. 1, the pool will be open on a more limited basis.
Copyright 2018 The Lawrence Journal-World. All rights reserved. This material may not be published, broadcast, rewritten or redistributed. We strive to uphold our values for every story published.