KU administrator deals with recent vision loss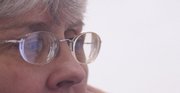 -->
-->
Mary Chappell goes to work every day and does her job as if little has changed in her life in the past two years.
But her life is very different.
About two years ago, Chappell, director of recreation services at Kansas University, became blind.
It was caused by a water skiing accident in 1995 combined with an unsuccessful surgery a couple of years ago. The two incidents left her legally blind.
"I can see light, and I can see motion. I can see my hand," Chappell said as she moved her hand in front of her face. "I can't see my hand, but I can see the motion."
The water skiing accident caused her left retina to detach and her right retina to tear. At the time, doctors saved the right retina, but when it started to detach again a couple of years ago the surgery was unsuccessful.
Frank DeSalvo, associate vice provost for student success and Chappell's supervisor, said the job she has been asked to do is huge.
"She has a very complicated budget to oversee, and she takes that very seriously because there's a combination of state, but mostly student, funds that are involved there," he said. "Mary feels a very strong responsibility toward students and cares about students."
She's barely missed a step in her job at KU. She still runs the recreation services department. She's still active in overseeing the student recreation center expansion.
She just does her job a little differently sometimes. She has a special Bluetooth headset that helps her use e-mail, and a scanner that will read documents. She also uses a thumbprint scanner to log on to her computer rather than the traditional username and password setup.
The changes go beyond just adding technology. Take, for example, how her staff members describe the expansion that's under way at the recreation center.
"We'll be talking about the expansion and they'll say, 'You know, it's over there,'" she said. "I finally got them to say it's in the northeast corner about halfway down."
She's also recruited a friend - Ruth Ann Stoner, a budget and personnel administrator in the Office of Student Success - to drive her to work each day.
"I've not seen a day or moment that Mary has felt sorry for herself or had an inclination to ask 'Why me?'" Stoner said. "She decided she was going to make the most of every day."
Perhaps it should come as no surprise then that in January Chappell climbed onto a pair of skis and went snow skiing, even though she couldn't see the snow.
"I just go out and do those things and see how we can adapt it," Chappell said.
Copyright 2018 The Lawrence Journal-World. All rights reserved. This material may not be published, broadcast, rewritten or redistributed. We strive to uphold our values for every story published.