Photo Gallery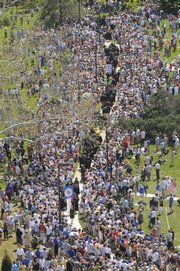 KU 2008 Commencement
Kansas University held its 136th commencement ceremony on Sunday at Memorial Stadium.
As they walked into Kansas University's Memorial Stadium on Sunday afternoon, the Class of 2008 brought with it a litany of accomplishments that would make any graduate proud.
About 4,000 students participated in the university's 136th commencement exercises, though at least one faculty marshal noted that this year's crowd seemed a bit less energetic than in years past.
Perhaps it was because, after watching their classmates win the football Orange Bowl and men's basketball national championship, this year's graduates were just all partied out.
"You are members of the Class of 2008, the year KU's football team won the Orange Bowl and the basketball team won the Final Four," KU Chancellor Robert Hemenway told the graduates. "For the rest of your lives, you will remember 2008."
Jake Neu, a sports management student from Lawrence, said that while he'd remember his classes and the degree he earned, one memory would stand above the rest.
"Jayhawks winning the national championship. Couldn't ask for a much better year than this," he said.
In addition to recognizing the athletic accomplishments this year, Hemenway also paid tribute to the national champion debate team and several departments that ended the year with top rankings according to U.S. News and World Report.
Sam Kaplan, a student graduating with a degree in chemistry, decided he had enjoyed his time at KU so much he just couldn't bear to stop going to school now.
"I'm ecstatic. In fact, I'm not : I'm actually sad to leave, and that's why I decided to become a professional student," he said. "I'm going to go to grad school and continue. I found out the real world expects results, so I'm just going to stick on campus."
In addition to the 4,000 graduates from spring semester, all graduates since the last commencement - including summer and fall 2007 - were eligible to take part in commencement.
Harihar Shiwakoti, a graduate student from Nepal, took a time-out from his full-time job to take his final trip down Campanile Hill.
"I graduated in December and have been working in California, but because my parents were coming back to watch me graduate, I came back," he said.
Christine Downey-Schmidt, chairwoman of the Kansas Board of Regents, delivered the opening speech to the graduates and encouraged the Jayhawks to do something in their lives that will make the world a better place.
"You will leave a footprint," she said. "For that footprint to make the world a little better is my request of you."
KU graduate James Finley perhaps summed up the feelings of his fellow students better than anyone else.
"I'm trying to soak up what I can from KU," he said. "This is going to be my last experience with KU for a while."
Though the temperature was more mild than in years past, at least two people reported feeling overcome by the heat and in need of medical assistance. There were, however, no serious injuries.
Copyright 2018 The Lawrence Journal-World. All rights reserved. This material may not be published, broadcast, rewritten or redistributed. We strive to uphold our values for every story published.