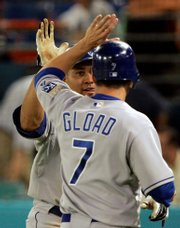 Miami — When closer Joakim Soria's scoreless-inning streak ended, he quickly regrouped to keep the Kansas City Royals' winning streak going.
Soria allowed a run for the first time this season, then struck out the next two batters to end the game, and the Royals won their fifth in a row by beating the slumping Florida Marlins, 7-6, Friday night.
Brett Tomko pitched six innings for his first victory in nearly six weeks, and two unearned runs provided the winning margin for Kansas City.
Soria had a three-run cushion when he gave up a two-run homer to Jeremy Hermida on an 0-2 curve with one out in the ninth. The right-hander then struck out Hanley Ramirez and Jorge Cantu - both on curves - for his 11th save.
"We got the win, and I got the save," Soria said. "That's all that's important."
The Royals' win streak is their longest since last June.
"You're going to go through hot streaks and cold streaks, but right now we're playing great baseball," left fielder Jose Guillen said.
Guillen had three hits and drove in two runs, and Miguel Olivo drove in two runs with his fifth homer.
Soria retired the first batter in the ninth, then gave up only his second walk this year to Cody Ross. Hermida followed with his fifth homer to center.
"He crushed it," Soria said.
Soria's ERA soared to 1.04. He threw 162â3 scoreless innings to start the season, one-third of an inning shy of the Royals record.
"It wasn't going to last forever," Tomko said. "A guy got him, but he still got the job done."
Tomko (2-4) allowed five hits and two runs to win for the first time since April 6. He had lost his past four decisions.
"It's nice to get on the W side and get back on track," he said. "I felt like I was in control for the most part."
Copyright 2018 The Associated Press. All rights reserved. This material may not be published, broadcast, rewritten or redistributed. We strive to uphold our values for every story published.