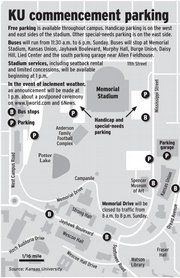 Brian Jones started college six years ago unable to write a complete sentence, use a computer or solve the simplest math problem.
On Sunday, the 41-year-old Jones will lead his classmates in the School of Social Welfare down Campanile Hill and into Memorial Stadium as a graduate of Kansas University. Along the way, he's gotten a handle on his alcoholism, a drug habit, a wholly inadequate high school education and reconnected with his heritage as an American Indian.
"It was in a sociology class that I became interested in social justice. So many things about social justice and society interest me," Jones said. "I made a commitment right there to stick with it until I got a degree."
Jones started his education at Haskell Indian Nations University, taking remedial math and English classes. Though he'd gone to school a nondrinker, he soon relapsed. Within a year and a half, he decided he needed a different kind of treatment - it would be his fifth trip - if he was to have any hope of truly becoming a recovering alcoholic.
A mentor at Haskell helped him get into an Oklahoma substance abuse center for American Indians.
"The last straw was during Christmas break, 2003-04. I'd spent all my school money on alcohol and drugs," Jones said. "When I went into that program, they healed me in a Native American way. When I left there, I knew I was a new, changed man."
Melissa Holder, an adviser at Haskell, helped Jones complete his first six semesters of education, and marveled at the progress he made.
"Brian was a student who, if you hand him an assignment, he'd immediately start working," she said. "Part of what I did was help him see that he had the potential to do any assignment that's put in front of him."
Jones blames his early education problems on both his lack of desire to learn in high school and a high school that sought to do the very least in order to pass him through. He said he was placed in the most remedial classes and ended up graduating with a 1.8 GPA.
"They just let me go through the system," Jones said. "I fell through the cracks. They just passed me through high school without teaching me."
But those days were behind him when he entered KU in spring 2006. While he was academically prepared, he wasn't quite as prepared for how much bigger and more impersonal KU can be.
"I thought about finding another school," he said.
But Gretchen Heasty, an adviser at KU, convinced him to stay, then helped him prosper.
"It's a tough transition. I think Brian has even pointed things out to help me understand the transition better," she said. "He would use our tutoring center. He would meet with me regularly. Eventually, I sort of just sat back and watched him go."
Jones has already accepted a job as a social worker with the Prairie Band Pottawatomie tribe. Not so coincidentally, Jones' mother was a Prairie Band Pottawatomie. He discovered his heritage while a student at Haskell.
"It's a beautiful culture," he said. "I've been going out there and meeting people. I have a sense of belonging out there."
Jones has an eye on grad school - he wants to get his master's in social work - and then opening a substance abuse treatment program on the Prairie Band Pottawatomie reservation. He says he'll be able to use his experiences to help others.
Copyright 2018 The Lawrence Journal-World. All rights reserved. This material may not be published, broadcast, rewritten or redistributed. We strive to uphold our values for every story published.