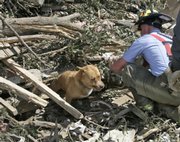 Picher, Okla. — A tornado did what the federal government could not.
Ellis Jones had been a holdout in the government's quest to pay everyone to leave Picher, contaminated from its long-closed lead mines.
But Saturday evening, a tornado that killed six of his fellow residents plucked Jones' mobile home from its gravel pad and slammed it into houses and trees on the other side of the street.
"I've lived here all my life, and I said I'd never move, but I will now," Jones, 68, said Monday as he picked through the tangled debris of his former home.
The tornado dealt what could be the final blow to Picher, a once-thriving town of 20,000 just across the borders from Kansas and Missouri that became a federal government Superfund clean-up site because of lead pollution. About 800 still live there.
"I think we are at the point where this is the last straw," said Mayor Sam Freeman, whose own house was destroyed by the twister. "With all the devastation, I don't think it's feasible for anyone to stay."
The tornado left two large neighborhoods looking as if they were strafed by bombs. More than 100 houses and dozens of cars were demolished.
Breezes that used to rustle leaves now rattle shards of aluminum siding hanging on bark-stripped trees that are mere spindles sticking out of the ground.
"It makes me sick to my stomach," Freeman said.
Ellen Freeman, 88, and no relation to the mayor, lived in Picher for 68 years before taking a buyout three months ago. She was in town Monday to check on friends. She said the tornado on top of Picher's other troubles is unfair.
"I don't know how much more God can let us go through," she said.
The tornado destroyed one of Picher's last-remaining businesses, a convenience store that was the only place in town to buy gas. Other businesses have taken buyouts or closed long ago, leaving Main Street a deserted series of dusty, paint-peeled storefronts.
The thrift shop moved out last month, the bank will relocate soon, and even the volunteer Fire Department will go to a building outside of town later this year. Eventually, Picher's city government will disappear, too, the mayor said.
But on Monday, with power restored, Joyce Cox reopened G & J's, a small cafe where hamburgers and French fries are still 99 cents and greeting cards can be bought for 15 cents. Cox, in business since 1991, said Picher still has some life.
"We're tough," Cox said. "We're down but we're not out. We're out pretty well but not completely."
Copyright 2018 The Lawrence Journal-World. All rights reserved. This material may not be published, broadcast, rewritten or redistributed. We strive to uphold our values for every story published.