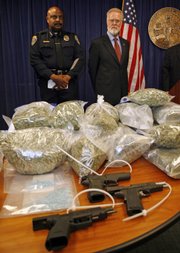 San Diego — When a 19-year-old freshman sorority member died a year ago from a cocaine overdose at San Diego State University, campus investigators set out to find out who was dealing drugs to their 34,000 students.
It turned out their targets were on Fraternity Row, where authorities say unassuming facades of houses emblazoned with Greek symbols concealed thriving networks that may have used profits to finance fraternity operations.
Undercover agents arrested 96 people, including 75 San Diego State students, during a five-month investigation into drug dealing on campus. Students at three fraternities were arrested.
Twenty-nine of the suspects were arrested early Tuesday in raids at nine locations including the Theta Chi fraternity, where agents found cocaine, Ecstasy and three guns.
Eighteen of them were wanted on warrants for selling to undercover agents.
San Diego State suspended Theta Chi and five other fraternities Tuesday pending a hearing on evidence gathered during the investigation.
Some fraternity members made little effort to hide, authorities said.
One Theta Chi member allegedly sent text messages last month to regular customers offering reduced prices on bulk quantities of cocaine before he headed to Las Vegas for a fraternity formal.
Grams of cocaine were on sale for as little as $35.
"Attn faithful customers both myself and my associates will be in Vegas this coming weekend," the 19-year-old student wrote in the text message. "So stock up, we will be back Sunday night."
One student who was arrested was a month away from a criminal justice degree and another was about to receive a master's degree in homeland security.
"A sad commentary is that when one of these individuals was arrested, they inquired as (to) whether or not his arrest and incarceration would have an effect on him becoming a federal law enforcement officer," said Ralph Partridge, special agent in charge of the Drug Enforcement Administration in San Diego.
The Greek system has about 3,000 students, but Fraternity Row plays an outsized role in campus life. It sits a block from Cox Arena, home to many college sporting events.
Dale Taylor, national executive director of Theta Chi, said he was "obviously shocked and saddened" by the allegations. Theta Chi prohibited the San Diego chapter from group activities like parties or sports activities and will investigate additional disciplinary measures, up to expulsion of members or the entire chapter.
The San Diego chapter, founded 61 years ago, was the first national fraternity on campus and has 65 members.
University police launched their investigation into drug sales on campus after Shirley Poliakoff, 19, died from a cocaine overdose in May 2007. Investigators discovered many students in fraternities were aware of organized drug dealing within their houses.
As the investigation proceeded, another student, from Mesa College, died of a cocaine overdose at an SDSU fraternity house on Feb. 26, the DEA said.
More than 130 undercover drug buys were made at locations including fraternity houses, student parking areas and dormitories during the investigation by university police and the DEA, authorities said.
Authorities seized several guns, at least $60,000 in cash and about $100,000 worth of drugs, including marijuana, psychedelic mushrooms, hash oil, methamphetamine and illicit prescription drugs.
Some drugs bought and sold by students were traced to gangs linked to Mexican cartels, according to the DEA.
Copyright 2018 The Associated Press. All rights reserved. This material may not be published, broadcast, rewritten or redistributed. We strive to uphold our values for every story published.