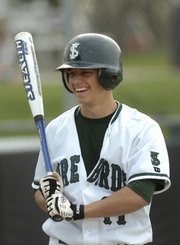 Let's play two
Because of a rainout earlier in the season, the Lawrence High and Free State High baseball teams will face off on back-to-back days, a rarity in high school baseball. Game One will be at 5:30 p.m., Wednesday at Ice Field. Game Two is slated for 7 p.m. Thursday at Hoglund Ballpark.
For years, the ninth spot in the batting order was reserved for a team's weakest hitter.
These days, however, hitting ninth seems to be a stepping stone to becoming a leadoff hitter.
That's the way it has gone for Lawrence High and Free State leadoff hitters Aaron Rea and Adam Rock, guys who spent the 2007 season at the bottom of the lineup and now fill the role of first to the plate for their teams.
Their coaches say the transition to the top was a natural progression for both batters, especially in today's game, where the ninth spot in the order often is known as the "second leadoff hitter."
Both Rea and Rock, who will face each other twice this week - Wednesday at Ice Field and Thursday at Hoglund Ballpark - said a year of hitting ninth helped ease them into the leadoff role.
"Hitting ninth was a good start for me to become a leadoff hitter," Rea said. "My role then was to get on base and turn the lineup over, and that's kind of my role now, too."
Rock, a senior, also is well aware of his role at the top of the Firebirds' potent lineup.
"As a leadoff hitter, you've gotta get on base," he said. "That's the most important thing. It doesn't matter how you get on, if you get hit, walked or just hit a ground ball in the infield, it's all about getting on base."
Few roles in sports are as clearly defined as that of the leadoff hitter. Managers from youth leagues to Major League Baseball scour their rosters for the right guy to fill the role. The most common characteristics include: good baseball IQ, a good eye, patience at the plate, good speed and the ability to work deep into the count.
Rock possesses all five tools.
"He's the table-setter," Free State coach Mike Hill said. "And what's so great about Adam is he can get on in multiple ways."
With a batting average hovering around .400 and the kind of speed that inspired LHS coach Brad Stoll to compare him to a deer on the base paths, Rock has become known as a weapon at the plate. During his varsity career at Free State, he has 12 bunts for hits in 35 games. According to Hill, that number is off the charts.
"He's as fine a bunter as I've ever had," Hill said. "He puts the ball where you can field it, but there's no margin for error because of his speed."
Although Rea also is known for his speed, he certainly doesn't look the part of the prototypical leadoff hitter as he strides toward the batter's box. He's taller, and generally bigger, than most who fill the role, which jives well with the way his coach uses him there.
"We want him to set the tone," Stoll said. "And that means the first pitch he likes that's in his comfort zone, we want him to hit it as hard as he can. Even if it's an out, as long as he hits one on the screws, that sends a message that we came here to swing the bats."
Rea likes the fact that his coach hasn't asked him to temper his aggressive attitude just because this is his rookie run at hitting first.
"For every batter, not just leadoff, Coach Stoll gives us that mentality that he wants us to swing and hit it hard somewhere," Rea said. "I like that because it shows he's behind us."
Although both Rea and Rock are new to their roles this season, both have flourished at the plate and on the base paths, where each player leads his team in stolen bases.
With his .500 on-base-percentage and blazing speed, Rock has helped lead Free State to a 13-2 start and has the Firebirds poised to capture another Sunflower League crown and make a run at a state title.
"That's always been extremely important to us," said Hill of a player's OBP. "Even moreso than average. With the guys we have hitting behind him, it's particularly important that he get on base because if they get one in the gap, he's going to score."
Similarly, with a .430 OBP and .347 average, Rea has been the ignition switch for plenty of big innings for the Lions (9-7) this season.
"There's a lot of pressure on Aaron at the top," Stoll said. "But we've been real pleased with him all year. With the pressure that's on him, he's done a heck of a job. He's got the makings of a great leadoff hitter."
Copyright 2018 The Lawrence Journal-World. All rights reserved. This material may not be published, broadcast, rewritten or redistributed. We strive to uphold our values for every story published.