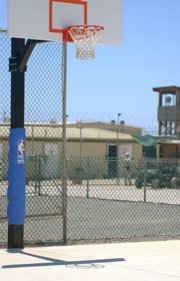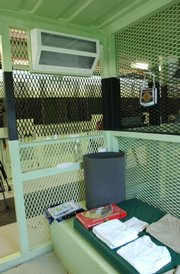 Their favorite TV show is "World's Most Dangerous Catch." Their favorite movie, "March of the Penguins." Their medical staff (the equivalent of three staffers per individual) is available 24/7. They see a doctor on average once every 4.5 weeks. If they need the care of a specialist, the appointment is met within an average of two days. They are taught reading and writing in any of four languages. More than 5,000 books in 13 languages occupy their library. They received more than 27,000 pieces of mail in 2007. And just like the rest of America, they have to watch their weight; they have gained an average of 12 pounds.
Who are these 280 people? They're some of the world's most dangerous criminals, the detainees of "Gitmo," the detention camp at Guantanamo Bay Naval Base, Cuba.
Last week I visited Gitmo as part of a Department of Defense Joint Civilian Orientation Conference.
Since 2002, the base has been home to the Guantanamo Bay detention camp, in all likelihood the most well-documented prison in history. The 280 remaining detainees, alleged to be military combatants captured in Afghanistan and Iraq, benefited from more than 1,200 lawyer visits in 2007. The camp has been visited by more than 2,000 journalists. It is not a dark, hidden secret. It is a highly scrutinized and documented prison.
More than 500 of the original 800 detainees, who after being vetted by the United States and their home country, have been returned; 30 of these repatriated detainees have been proven to have rejoined the fight against America.
Camp Justice at Gitmo is soon to be the site of trials for detainees, including six charged in the 9/11 attacks. It is a multimillion-dollar facility, painstakingly constructed and overseen by a professional team. Every effort has been made to make it the most modern, secure courtroom under U.S. jurisdiction. Accommodations have been provided for the expected 12 lawyers per defendant, hundreds of witnesses and affected family members.
The debate about the legality of incarcerations and prisoner treatment at Gitmo is passionate - and political. If it were on dispassionate facts, people would see it as a rough place for very rough people, harsh yet overly fair. Yes, it has been open for business for more than six years; so has the war. These are not unfortunate bystanders caught in the wrong place at the wrong time. These are some of the worst of the worst. They are being treated extremely fairly and always humanely, despite their ongoing actions.
They are guarded by some of the best of the best. Truth be told, the average person would not be able to hold up under these conditions. The men and women who stand guard uphold the highest honor of their military corps. They work day in and day out in hot, desolate and emotionally charged conditions. Fortunately, the military also provides expert care for them in their downtime.
We all wish it could be over yesterday. Hopefully the trials will be starting soon and the legal system will be in full swing with the focus on justice.
America seems to be caught up in a pessimistic wave. So much cynicism and mistrust of the government would have you believe that people would be leaving America for a better system.
Quite the opposite is true, but that is another story.
Copyright 2018 The Lawrence Journal-World. All rights reserved. This material may not be published, broadcast, rewritten or redistributed. We strive to uphold our values for every story published.