Photo Gallery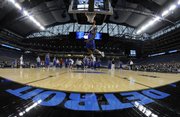 Practice at Ford Field
2008 NCAA Tournament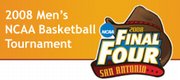 Get your March Madness fix at KUSports.com.
Detroit — Antonio Pena is pretty close to Canada now. Just across the Detroit River south of downtown, the Ontario city of Windsor thrives.
Pena, Villanova's starting forward, thinks highly of the neighbors to the north. After all, a trip to Canada jump-started his promising college basketball career just six months ago.
Villanova is in the Sweet 16, preparing for today's 8:40 p.m. matchup with Kansas University at Ford Field. The Wildcats' journey to this point started way back in September, when they went to Ottawa to play four exhibition games over Labor Day weekend.
The Canada trip - similar to the one Kansas made in 2004 - helped everyone, especially on a young squad with no seniors. It particularly helped Pena, a 6-foot-8 freshman who needed the growth because he has been relied on heavily in his rookie season as a post player.
"Going to Canada improved me a lot," Pena said. "It got me back and improved my confidence in game action."
See, it has been awhile. A 19-year old out of Brooklyn, N.Y., who knows KU's Russell Robinson from childhood, Pena tore his meniscus just before enrolling at Villanova in 2006. He healed quickly but ended up red-shirting last season. While sitting out, he bulked up to 230 pounds and improved his all-around game.
Pena now is averaging 7.0 points and 4.3 rebounds per game, with a ceiling so much higher than that.
"He's probably," guard Corey Stokes said, "our most talented player on the team."
Fellow forward Dante Cunningham - who will start alongside Pena tonight - went a step further.
"He is tremendous," Cunningham said. "The sky's the limit for him. As long as he keeps working like he's working, he could definitely be All-Big East. Soon."
Pena's contributions have been needed in a thin frontcourt. The Wildcats (22-12) were dealt a blow this week when 6-10 center Casiem Drummond underwent surgery to repair a broken right ankle. He's done for the year.
The size disadvantage - Pena and Cunningham both are 6-8, and nobody available is taller - is something that both big men dismiss.
"We're going to do our best," Pena said. "We're going to play them like every other big. We're going to work hard, get in front of them, keep them moving."
Besides, Pena added, "They're going to have to guard us, too."
Copyright 2018 The Lawrence Journal-World. All rights reserved. This material may not be published, broadcast, rewritten or redistributed. We strive to uphold our values for every story published.