Photo Gallery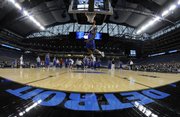 Practice at Ford Field
2008 NCAA Tournament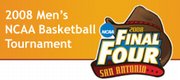 Get your March Madness fix at KUSports.com.
Detroit — Bill Self walked over by Kansas University's bench at the beginning of Thursday's open practice at Ford Field. One look at the unorthodox setup, and KU's head basketball coach was taken aback.
"Whoa," he said.
Ford Field has an innovative design with the intention to hold 72,818 fans for the NCAA Tournament games. That includes today's 8:40 p.m. Sweet 16 matchup between Kansas and Villanova.
For the sake of sight lines, the court is on a 27-inch stage. The team benches are next to the stage, meaning the bench players essentially will be watching the game with the court close to eye level.
"I'm going to reserve judgment," Self said of the setup.
He's also going to have to decide whether to coach from the court standing up or 27 inches below it sitting down.
Fans - particularly the ones in the cheap seats in the 300 level upstairs - will have to sacrifice the most with the court so far away. As for the players, Villanova held its open practice before talking to the media, and reported minimal problems with depth perception or anything else that might pop up with playing in such a massive venue.
"You've got to get used to shooting," Villanova's Corey Stokes said. "It is a lot different with all the open area around. You do have to get adjusted to it."
Many of Villanova's players said it reminded them a little of the Carrier Dome in Syracuse, N.Y., another football venue which converts to a basketball arena in the winter.
Villanova's players actually received an e-mail earlier this week describing the setup of Ford Field and showing a picture of it from one of the corners.
"You could see all the stands, and you see this little wooden thing. It was about like thumbnail small," guard Scottie Reynolds said. "We were looking for the court. Then we saw it in the middle."
It's not much of an exaggeration. But none of the players thought it would make much of a difference in the end. Both teams spent their entire 50-minute window Thursday working out on the stage/court to get used to it.
And playing in front of so many fans - there could be more than 60,000 in attendance today - is something any player would enjoy.
"I don't think that's going to be a problem," KU's Russell Robinson said. "I can play on the roof if that's where we have to play at.
"At this point in time, we're just going to go out there and play the game."
Copyright 2018 The Lawrence Journal-World. All rights reserved. This material may not be published, broadcast, rewritten or redistributed. We strive to uphold our values for every story published.